U23 Vietnam closes 25-man list to visit Thailand prior to AFC U23 championship 2020 finals
Thứ sáu, 03/01/2020 11:00 (GMT+7)
Park Hang-seo has announced the 25-player list to visit Thailand for AFC U23 Championship 2020 finals.
Park Hang-seo and VFF has finallized the roster to Thailand yesterday.
Accordingly, Dang Van Toi, Dung Quang Nhom Nguyen Hung Thien Duc are parted from the list, which is not surprising as they don't impress the coaching staff in the previous days.
The three eliminated defenders cant compete for a slot since U23 Vietnam's denfensive line possesses quality players including Dinh Trong, Ho Tan Tai, Thanh Thinh, Thanh Trung.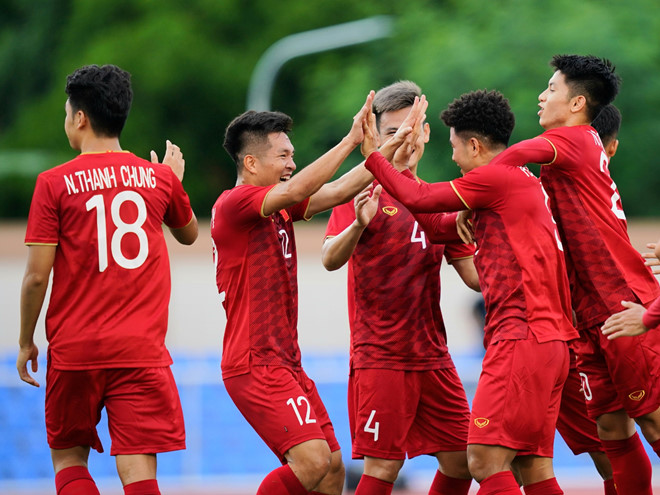 U23 Vietnam is set to visit Thailand on Jan 1 afternoon. Vietnam will have a friendly with Bahrain before officially joinning the tournament.
U23 Vietnam is in the same group with UAE, Jordan and North Korea. Park's goal is to be qualified for the group stage and win a ticket to the Olympic Tokyo 2020. U23 Vietnam will have an opening match with UAE on Jan 10.
U23 Vietnam's squad list:
Goalkeepers (3): Bui Tien Dung (HCMC), Nguyen Van Toan (Hai Phong), Y Eli (Dak Lak).
Defenders (8): Nguyen Duc Chien (Viettel), Huynh Tan Sinh (Quang Nam), Le Ngoc Bao (Pho Hien), Nguyen Thanh Chung, Bui Hoang Viet Anh, Tran Dinh Trong (Hanoi FC), Ho Tan Tai , Do Thanh Thinh (SHB Da Nang).
Midfielders (10): Tran Thanh Son, Tran Bao Toan, Trieu Viet Hung (HAGL), Nguyen Trong Dai, Nguyen Hoang Duc, Nguyen Huu Thang (Viettel), Nguyen Trong Hung (Thanh Hoa), Bui Tien Dung (SHB Da Danang), Nguyen Quang Hai and Truong Van Thai Quy (Hanoi FC).
Forwards (4): Ha Duc Chinh (SHB Da Nang), Nguyen Tien Linh (Binh Duong), Tran Danh Trung, Nham Manh Dung (Viettel).
VIDEO: "Huênh hoang" tới lò Kickboxing thách đấu, cao thủ Kungfu biến thành "bao cát"
Một diễn đàn võ thuật tại Việt Nam đã chia sẻ đoạn Clip màn tỷ thí giữa một võ sĩ kickboxing chuyên nghiệp và võ sư cổ truyền.