Dominant Korea Republic see off Australia to reach final
Thứ tư, 22/01/2020 22:15 (GMT+7)
Korea Republic are through to the final of the 2020 AFC U23 Championship after producing a dominant display to beat Australia 2-0 in the semi-finals on Wednesday.
Following a goalless first half at the Thammasat Stadium, Kim Dae-won broke the deadlock for the South Koreans in the 56th minute before Lee Dong-gyeong added a second with 14 minutes remaining to seal the win.
Now guaranteed of their place at the Olympic Games later this year, Korea Republic can focus their attentions on winning the tournament for the first time ever when they meet Saudi Arabia in Sunday's final, while Australia can still qualify for the prestigious quadrennial event should they beat Uzbekistan in the third-place playoff a day before.
Given how dominant they were against quality opponents, and as the only side in the competition to boast a 100 per cent record of five consecutive wins, the South Koreans have reason to be confident in their prospects of winning the decider in four days 'time.
AUSTRALIA: Tom Glover, Gabriel Cleur, Tass Mourdoukoutas, Dylan Ryan, Alex Gersbach, Keanu Baccus, Aiden O'Neill (Ben Folami 66 '), Connor Metcalfe (Denis Genreau 46'), Trent Buhagiar, Jacob Italiano (Reno Piscopo 66 ' ), Al Hassan Toure.
KOREA REPUBLIC: Song Bum-keun, Lee You-hyeon, Jeong Tae-wook, Lee Sang-min, Kang Yun-seong, Won Du-jae, Kim Dong-hyun, Um Won-sang (Lee Dong-jun 46 ') , Jung Seung-won (Lee Dong-gyeong 64 '), Kim Dae-won (Kim Tae-hyeon 87'), Oh Se-hun.
Highlights
1 ′ - KICK OFF!
5 ′ - The winners of this tie will face Saudi Arabia who defeated defending champions Uzbekistan in the first semifinal earlier in the day.
13 It's - Created by the South Koreans who have been impressive with their attacks so far.
23 ′ - Australia almost score the opener after a scrap inside the box!
25 ′ - KOREA REPUBLIC HIT THE WOODWORK! Oh Se-hun with a strike on the turn that rattles the upright! That was some strike!
30 ′ - Half an hour played and it remains goalless.
40 ′ - Not much happening here right now.
45 ′ - Australia go close from one of the rare chances that have come their way.
45 ′ - And then the South Koreans go close with a shot from outside the box! A busy end to this first half in Rangsit.
HALF TIME: AUSTRALIA 0-0 KOREA REPUBLIC
46 ′ - SECOND HALF BEGINS!
50 ′ - Korea Republic has started the second half strongly and have gone close on a couple of occasions already!
51 ′ - And they go even closer this time around with only the woodwork denying them this time!
56' GO - GOAL! Australia 0-1 KOREA REPUBLIC! The South Koreans finally have the lead and it is a well-deserved one! Kim Dae-won with the opener.
76 ′ - GOAL! Australia 0-2 KOREA REPUBLIC!
The South Koreans have surely booked a place in the final of the AFC U23 Championship and the 2020 Olympic Games as Lee Dong-kyeong doubles their advantage with a left-footed strike!
90 ′ - Into the second-half injury time we go!
FULL TIME: AUSTRALIA 0-2 KOREA REPUBLIC!

Korea Republic had entered the final of the AFC U23 Championship 2020 final and in doing so, also book a place in the men's football competition of 2020 Olympic Games to be held in Tokyo, Japan later this year!———

Australia are to take on Korea Republic in the second semifinal of the 2020 AFC U23 Championship at the Thammasat Stadium in Rangsit, Thailand on Wednesday.
Australia needed extra time to overcome Syria 1-0 in their quarterfinal tie while Korea Republic recorded a last-minute winner against Jordan in their last-eight tie to progress to the semifinals of the fourth edition of the AFC U23 Championship.
The other semifinal will witness Saudi Arabia taking on defending champions Uzbekistan.
Top two teams from each group progressed to the knockout stages of the fourth edition of the continental tournament. The third-place play-off will take place on January 25 while the final will take place at the Rajamangala National Stadium in Bangkok on January 26.
Prediction: U23 South Korea 0-1 U23 Australia
Expected Lineups of U23 South Korea vs U23 Australia
U23 Australia: Tom Glover, Gabriel Cléùr, Dylan Ryan, Tass Mourdoukoutas, Alex Gersbach, Keanu Baccus, Zachary Duncan, Ramy Najjarine, Daniel Bouman, Reno Piscopo, Alhassan Touré.

U23 South Korea: Beom-keun, Yu-hyeon, Tae-uk, Sang-min, Jin-ya, Seong-ung, Du-jae, Dong-jun, Jin-kyu, Dae-won, Kyu-seong.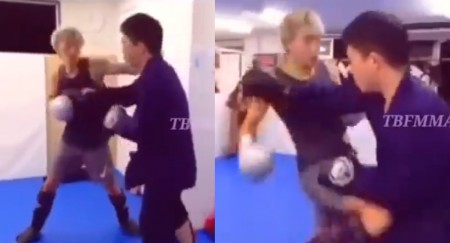 VIDEO: "Huênh hoang" tới lò Kickboxing thách đấu, cao thủ Kungfu biến thành "bao cát"
Một diễn đàn võ thuật tại Việt Nam đã chia sẻ đoạn Clip màn tỷ thí giữa một võ sĩ kickboxing chuyên nghiệp và võ sư cổ truyền.