Thrashing U22 Thailand, Vietnam advance to the semis of SEA Games men's football
Thứ bảy, 07/12/2019 17:43 (GMT+7)
Tien Linh scores a brace, helping Vietnam to the semi-finals of the 30th SEA Games men's football while Thailand comes home after the qualifying round.
U22 Thailand had a goal to open the score in the 5th minute. Goalkeeper Van Toan kicked the ball which hit striker Supachai and flew back into the net of U22 Vietnam.
U22 Vietnam then quickly conceded a second goal in the 11th minute. Suphanat Mueanta midfielder escaped and found Van Toan's net, giving Thailand a  2- 0 lead.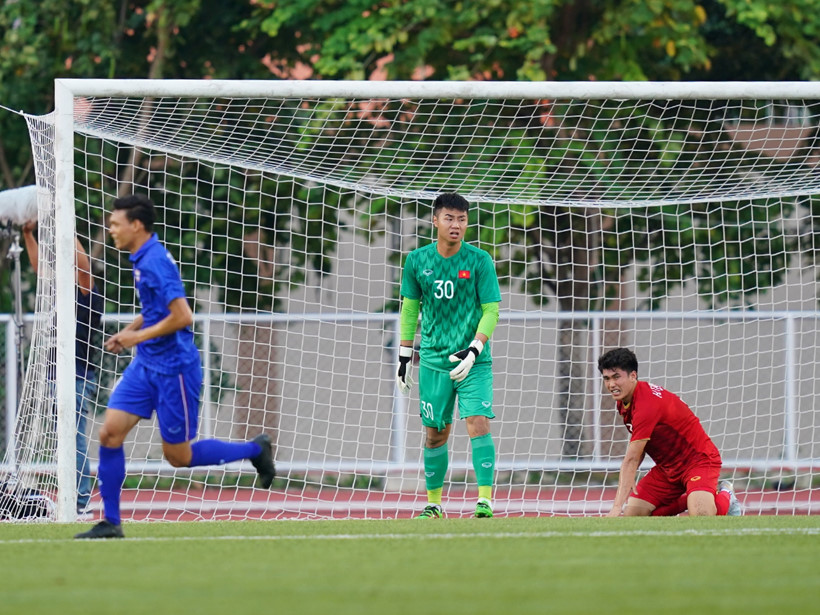 The joy for U22 Thailand does not last long. In the 15th minute, Thanh Thinh crossed the ball precisely to set up striker Tien Linh who fired narrow the gap for U22 Vietnam.
After the goal, Park Hang-seo's army played high and put considerable pressure on Thailand U22's net. However, the War Elephants defense was so solid that they hold more advantage after the first 45 minutes.
In the second half, the game did not change much when U22 Vietnam still dominates the game. Vietnam pushed the squad up high and become constant threats to Thailand net.
After a lot of efforts, U22 Vietnam also got the equalizer goal. In the 71st minute, Tien Linh fell inside the penalty area and the referee gave Vietnam a penalty goal. It was Tien Linh that made no mistake to bring Vietnam a precious goal.
HIGHLIGHTS
FULL TIME: VIETNAM 2 -2 THAILAND
Vietnam officially qualifies for the semi-finals of SEA Games 30th men's football.
Their next rival is U22 Cambodia, second-placed team in group A.
90'+ 5: 5 minutes added on
89' Last minutes substitution
Tien Linh out, Tien Dung in
72' GOALLL VIETNAM 2-2 THAILAND
Tien Linh scores a penalty goal for Vietnam
70' Penalty for Vietnam
Nguyen Tien Linh is fouled inside the box and referee points to the spot. Tan Sinh steps up to take the penalty, but his effort is saved by the Thai goalkeeper and Ha Duc Chinh misses from the rebound!
But wait a minute. The referee is allowing Vietnam to take the kick again!
62' ONE YELLOW CARD FOR THAILAND
Chatchai booked a yellow card for a foul to Duc Chinh
46' SECOND HALF STARTS
HALF TIME : VIETNAM 1-2 THAILAND
45' +2: Two minutes added
20' Trong Hoang plays in the right-back position, replacing Tan Tai. Duc Chinh comes off the bench for Trong Hoang.
15' GOALLL VIETNAM 1-2 THAILAND
Cross comes in from the left and Nguyen Tien Linh heads in at the centre! Crazy game this!
11' GOAL! THAILAND 2-0!!
Thailand are now 2-0 up, and this time also, the Vietnam goalkeeper must carry some of the blame as he comes out from his line to clear a ball, but Suphanat Mueanta is first to it and just about manages to take the ball from Van Toan and scores!
VIETNAM 0-2 THAILAND!
5' GOAL! THAILAND 1-0!
Disastrous from Vietnam as Doan Van Hau plays a back pass to goalkeeper Van Toan who tries to clear, but his shot hits Supachai Jaided who was closing down the goalkeeper and into the goal!
VIETNAM 0-1 THAILAND!
1' KICK OFF!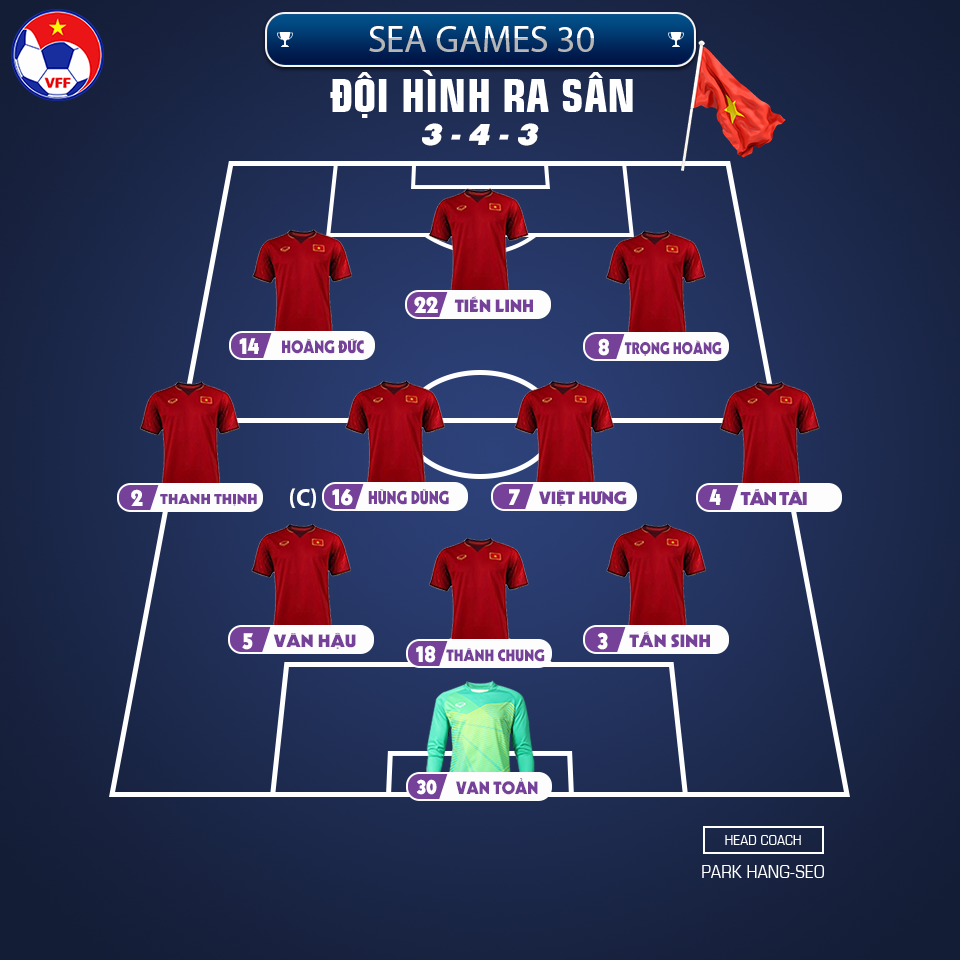 Starting XI
U22 Vietnam: Van Toan, Tan Sinh, Thanh Chung, Van Hau, Tan Tai, Thanh Thinh, Viet Hung, Hung Dung, Hoang Duc, Trong Hoang and Tien Linh.
U22 Thailand: Muangngam, Peerawat Akkatam, Chatchai Saengdao, Saringkan Promsupa, Thitathorn Aksornsri, Wisarut Imura, Kritsada Kaman, Anon Amornlerdsak, Suphanat Mueanta, Supachok Sarachat, Supachai Jaded.
Preview:
U22 Vietnam take on Thailand in the last group match of SEA Games 30 men's football, whichPark Hang-seo doesn't need a win to advance to the semis.
After 4 matches, U22 Vietnam is leading group B with 12 points and goal difference +13. Meanwhile, U22 Thailand is ranked third with only 9 points and goal difference +10. According to the regulations, the goal diffence will be coounted if both teams shares the same points.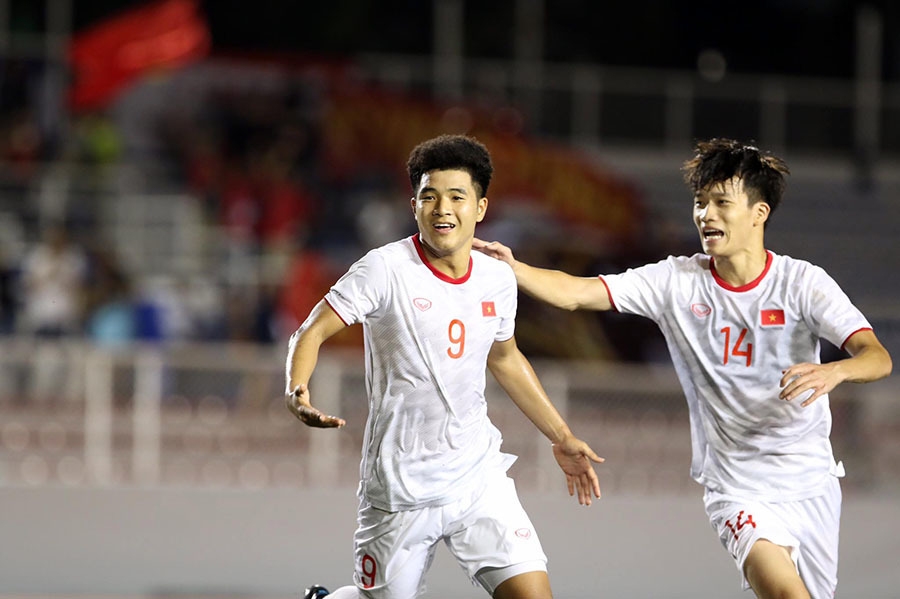 U22 Thailand is having less advantage than Vietnam and Indonesia, which they need to win Vietnam at least 2 goals. Otherwise, Park Hang-seo only needs a win or lost 1 goal, Vietnam will move on the next round.
This is such a tough task for the War Elephants sicne U22 Vietnam is having solid fedensive line which concede only 2 goals in 4 matches. Changsuek's attack proves ineffective, notably in the clash agaisnt Laos.
Prediction: U22 Vietnam 2-1 U22 Thailand
SEA Games men's football table: Group B
| | | | | |
| --- | --- | --- | --- | --- |
| STT | Team | Match | GD | Pts |
| 1 | U22 Vietnam | 4 | +13 | 12 |
| 2 | U22 Indonesia | 4 | +11 | 9 |
| 3 | U22 Thailand | 4 | +10 | 9 |
| 4 | U22 Laos | 4 | -4 | 4 |
| 5 | U22 Singapore | 4 | -6 | 1 |
| 6 | U22 Brunei | 4 | -24 | 0 |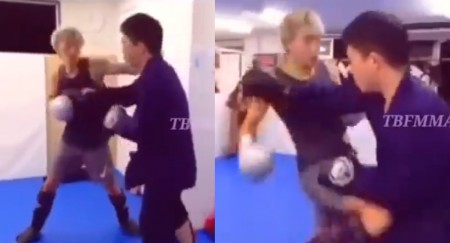 VIDEO: "Huênh hoang" tới lò Kickboxing thách đấu, cao thủ Kungfu biến thành "bao cát"
Một diễn đàn võ thuật tại Việt Nam đã chia sẻ đoạn Clip màn tỷ thí giữa một võ sĩ kickboxing chuyên nghiệp và võ sư cổ truyền.