Winning over Singapore, Vietnam to join the semis in SEA Games men's football
Thứ tư, 04/12/2019 09:06 (GMT+7)
Match result Vietnam vs Singapore in SEA Games 30. Vietnam excellently edges Singapore 1-0 to have a chance in the semis.
Starting with a high determination, U22 Vietnam tried to play higher on the pitch right from the beginning, but U22 Singapore proved they were not easily challenged.
No being afraid of collision, U22 Singapore joined the game better. U22 Vietnam, however, faced a big disadvantage when captain Nguyen Quang Hai was forced to leave the field in the 22nd minute due to injury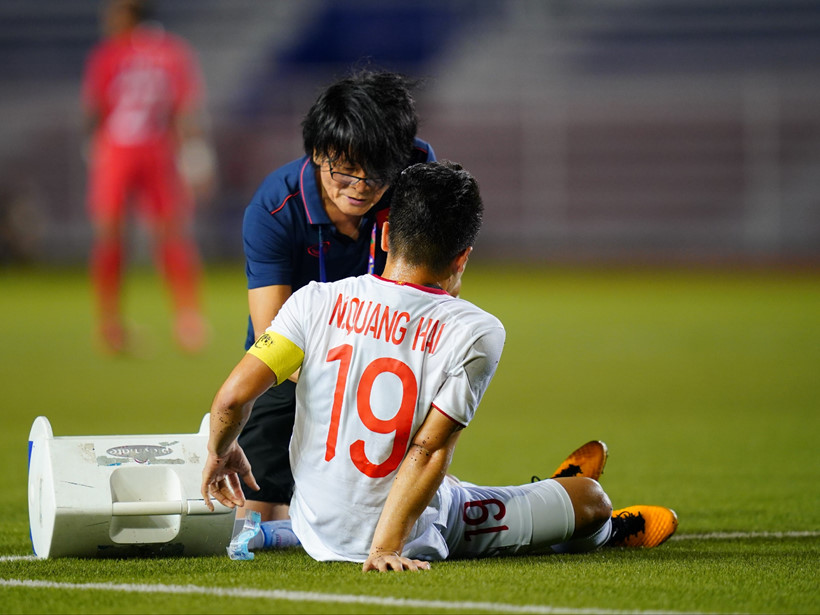 Facing the Singaporeans, the army of Park Hang-seo coach could not make any shot on the goal, closing the first half 0-0.
Entering the second half, Tien Linh's appearance brought changes to U22 Vietnam side. Great opportunities come, and the game becomes increasingly one-sided at the last minutes.
The tireless efforts finally helped U22 Vietnam to have joy. In the 85th minute,  Ha Duc Chinh, set up from a corner kick, made a header tearing the net of Singaporean.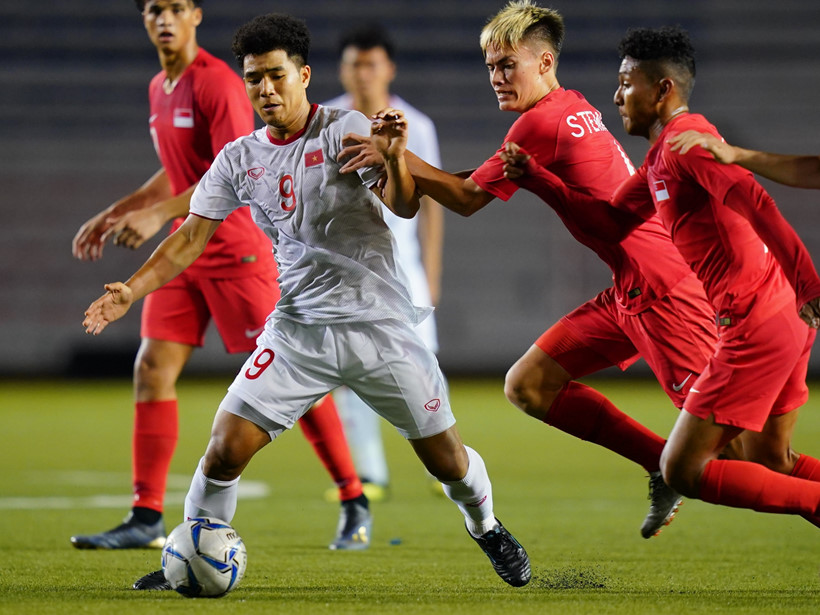 In the last minutes, U22 Vietnam spirit has been lifted up. If Vietnam were luckier, they could have won more than one goal. However, a 1-0 victory is enough for U22 Vietnam to get what they need, thereby taking a huge step to the semi-finals of the SEA Games 30.
Final: U22 Vietnam 1-0 U22 Singapore
HIGHLIGHTS
FULL TIME
SINGAPORE 0-1 VIETNAM
Vietnam reach the semifinals of the SEA Games 2019 after defeating Singapore 1-0 -- their fourth win in the men's football tournament!
86' GOAL! VIETNAM 1-0!!
Vietnam look to have one it again at the death! This time its is Ha Duc Chinh who heads in from a corner kick to give Vietnam the lead with five minutes left to play! SINGAPORE 0-1 VIETNAM
78' Chance for Vietnam!
Chances are far and few between in this game, but Doan Van Hau almost given a good opportunity to open the scoring, but fails to get a good connection to the corner with his head!
46' SECOND HALF is underway!
45' ONE minute added on!
It's still Singapore 0-0 Vietnam!
25' Meanwhile, Indonesia are leading Brunei Darussalam 1-0!
Thanks to a goal from Osvaldo Haay in the 11th minute!
15' Quarter of an hour played!
Cagey affair so far!
2' both sides enter the game with high determination
1' KICK OFF
Vietnam have maintained a perfect record in their SEA Games campaign so far defeating Brunei, Laos and Indonesia while Singapore have lost to Indonesia and Singapore and only have a point against their name from a goalless draw against Laos.
As many as 11 ASEAN nations are fighting each other to finish on the podium in the men's football tournament in this year's Southeast Asian Games hosted by the Philippines.
The competing nations have been split into two groups during a group stage draw with hosts Philippines, Malaysia, Myanmar, Cambodia and Timor-Leste making up Group A while Thailand, Indonesia, Vietnam, Laos, Singapore and Brunei Darussalam featuring in Group B.
Top two teams from each group will qualify for the knockout stages with the semifinals scheduled for December 7 and the third-place play-off and final to be played on December 10. The Rizal Memorial Stadium, the City of Imus Grandstand and the Binan Football Stadium will host the matches in the tournament.
Vietnam lineup against Singapore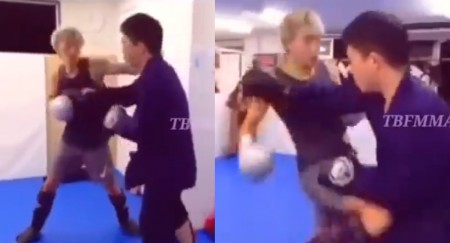 VIDEO: "Huênh hoang" tới lò Kickboxing thách đấu, cao thủ Kungfu biến thành "bao cát"
Một diễn đàn võ thuật tại Việt Nam đã chia sẻ đoạn Clip màn tỷ thí giữa một võ sĩ kickboxing chuyên nghiệp và võ sư cổ truyền.