Defeating Myanmar, Indonesia advances to the final in SEA Games 30th
Thứ ba, 10/12/2019 17:45 (GMT+7)
U22 Indonesia officially wins a place in the 30th SEA Games 30th men's football finals after struggling hard to beat Myanmar 4-2 in 120 minutes at Rizal Memorial.
HIGHLIGHTS
1′ – Kick off!
5′ – Five minutes on the clock. Both teams still settling into the occasion. No clear cut chances yet for either sides.
15′ – Much of the game still being played in the midfield. Both the defences have managed to nip the attacks in the bed so far.
18′ – CHANCE for Indonesia. Asnawi Bahari exchanges pass with Egy Maulana to enter the Myanmar box and crosses in from the byline. Myanmar goalkeeper Sann Sat Naing gets a hand to it, but the delivery reaches Osvaldo Haay in the centre who fails to direct his header into an open goal.
23′ – Another attack from Indonesia, this time down the left as Saddil Ramdani makes his way into the box and fires a ball across the goal. Fortunately for Myanmar, no Indonesian attackers are there to tap in and they manage to clear the danger.
30′ – Half an hour played. The Indonesian defence have given very little space for Myanmar to work here! Brilliant display from Indra Sjafri's side so far.
34′ – Once again, Saddil Ramdani plays in Osvaldo Haay on goal, but his effort is easily captured by Myanmar goalkeeper Sann Sat Naing.
42′ – This time, Firza Andika with a long ball into the box which is met with a header by Osvaldo Haay. But his effort goes over the goal.
44′ – One of the better chances to come Myanmar's way as Htet Phyoe Wai escapes Indonesia full-back on the right and crosses in, but Lwim Moe Aung's effort flies wide of the goal.
45′ – One minuted added on!
45+1′ – Another gilt-edged chances for Osvaldo Haay. Saddil Ramdani picks him with a good cross to the box, but Osvaldo directs his header straight at the keeper from close range.
HALF TIME: MYANMAR 0-0 INDONESIA!
Indonesia with the better opportunities in the first half, but their inability to apply the finishing touch means the two sides go into the break goalless. More to come in the second half. Stay turned!
Meanwhile, we are almost back underway for the second half at Rizal Memorial Stadium in Manila. Indonesia have made a change at the break with Sani Fauzi replacing striker Muhammad Rafli.
46′ – Second half begins!
47′ – ANOTHER CHANCE! Indonesia begin the second half just like how they ended the first. Osvaldo Haay is played through on goal by Egy Maulana and the Indonesian forward fires in a shot which is once again saved by Sann Sat Naing! Myanmar are still in this game, thanks to their goalkeeper, and also to Indonesia's wastefulness in front of the goal!
54′ – MYANMAR CHANCE! Almost a piledriver from Myanmar as Myat Kaung Khant fires a left-footer from the edge of the box. He has the goalkeeper well beaten, but the powerful shot misses the top corner by a matter of inches!
57 ': GOALLL! Evan Dimas opened the scoring for U22 Indonesia with a close shot from Egy's cross from the right wing.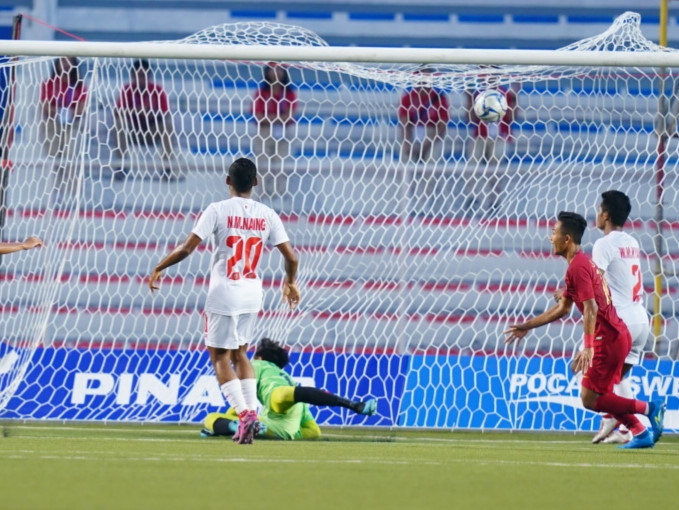 60': SUBSTITUTION! U.22 Myanmar strengthened their attack by fielding Kaung Mann. The striker scored the most goals for U.22 Mynamar in the group stage.
72 ': GOALLL! U22 Indonesia doubles the score to 2-0 after a header of "prodigy" Egy set up by Adi Bagas's free kick.
79' GOALLLL
Myanmar scores their first goal, Kaung Mann fires.
MYANMAR 1-2 INDONESIA
80' GOALLLL!
Unbelievable! Myanmar scores the second goal after less than 1 minute by Naing Win Tun.
MYANMAR 2-2 INDONESIA!
90'+4: 4 minutes ADDED ON
FULL TIME:
MYANMAR 2 - 2 INDONESIA
Both teams will take extratime to decide the place for the semis.
91′ – First half of Extra Time begins!
101' GOALLLL!
Indonesia 3-2 Myanmar
Osvaldo Haay scored a precious goal for Indonesia.
117' GOALLLL!
Indonesia 4-2 Myanmar. It is Evan Dimas again who raise the scoring to 4-2 for Indoensia.
OFFICIAL: INDONESIA 4-2 MYANMAR
Starting XI : U22 Myanmar vs Indonesia:
Myanmar Starting 11: Sann Sat Naing (GK), Win Moe Kyaw, Ye Min Thu, Ye Yint Aung, Aung Wunna Soe, Aung Naing Win, Nay Moe Naing, Lwin Moe Aung, Hlaing Bo Bo (Captain), Myat Kaung Khant, Htet Phyoe Wai
Indonesia Starting 11: Nadeo Winata (GK), Asnawi Bahar, Andy Setyo (Captain), Bagas Adi Nugroho, Firza Andika, Saddil Ramdani, Zulfiandi, Evan Dimas, Egy Maulana, Osvaldo Haay, Muhammad Rafli
PREVIEW U22 Myanmar vs U22 Indoensia:
Myanmar have many advantages before this match as they have up to 5 days off. In addition, this team also does not have any key players getting injured.
U22 Myanmar excelled in winning the ticket to the semi-final with the top position in Group A. Reparding play style, U22 Myanmar's form is stable with good control and deploy. The achievement of Myanmar U22 is gained from Malaysia's poor performance at this SEA Games edition as well as to win good results against the weaker opponents Cambodia, Philippines and Timor Leste.
Meanwhile, Indonesia U22 has abundant energy. They played pressing and counterattack with the highest speed. Despite being in the hard-fought group with Vietnam and Thailand,  Indonesia has proved their level.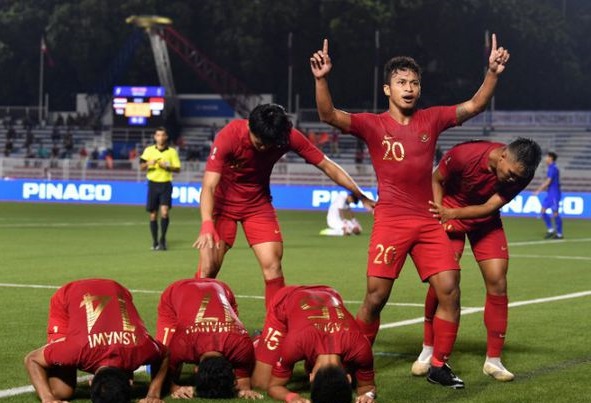 The Garuda doesn't take a long rest as much as their opponent. The 4-0 victory over Laos saw Osvaldo leading the top scorer list and playing the full 90 minutes.
However, the drastic solid play of Indonesia U22 will be a real obstacle for U22 Myanmar. Besides, the Indonesian players are better in strength and quality. Therefore, Indonesia is still higher rated for a place in the final of SEA Games 30.
Prediction: U22 Myanmar 1-2 U22 Indonesia
VIDEO: "Huênh hoang" tới lò Kickboxing thách đấu, cao thủ Kungfu biến thành "bao cát"
Một diễn đàn võ thuật tại Việt Nam đã chia sẻ đoạn Clip màn tỷ thí giữa một võ sĩ kickboxing chuyên nghiệp và võ sư cổ truyền.