Ho Chi Minh City coach: Tien Dung and Cong Phuong will be treated fairly
Thứ sáu, 27/12/2019 12:00 (GMT+7)
Coach Nicky Hayen explained the reason forward Cong Phuong could not compete a place in the lineup of Sint-Truidense.
HCMC FC coach Chung Hae-seong shares that Bui Tien Dung and Cong Phuong will be treated welll like everyone.
To prepare for the new season, HCMC FC is actively working on the transfer market. Recently, HCMC FC has completed the contract with goalie Bui Tien Dung and Cong Phuong.
"Everyone knows Bui Tien Dung and Cong Phuong is talents of Vietnam as they represent Vietnam NT in important tournaments from AFC U23 championships to AFF Cup. Bui Tien Dung and Cong Phuong do not have their highest form, but mostly due to no playing opportunities," Chung told VNE.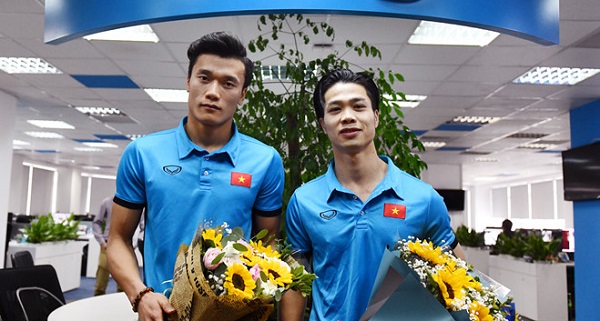 Bui Tien Dung and Cong Phuong have a huge number of fans. Being asked about using the players, Chung said, "Tien Dung is focusing with U23 team so we haven't meet and Cong Phuong is in Belgium. Ho Chi Minh and Sint-Truidense is still under negotiation so we could not meet him. However, my point of view is clear: every player is equal, no one has higher privilege."
HCMC FC will play in three important arenas including V-League, AFC Cup, and the national cup next year.
VIDEO: "Huênh hoang" tới lò Kickboxing thách đấu, cao thủ Kungfu biến thành "bao cát"
Một diễn đàn võ thuật tại Việt Nam đã chia sẻ đoạn Clip màn tỷ thí giữa một võ sĩ kickboxing chuyên nghiệp và võ sư cổ truyền.
Cập nhật lúc: 08:55:08 24/05/2022