Van Hau unable to represent Vietnam in the AFC U23 Championship 2020 final
Author: Admin
16:00 | 13/12/2019
Doan Van Hau will flight back to Netherlands right after the SEA Games 30th ended. He will summon with Heerenveen after achieving the gold medal with U22 Vietnam.
Last night, U22 Vietnam have a resounding 3-0 victory over Indonesia to crown the championship in SEA Games 30th. This is the first time the Vietnam has achieved his record after 60 years.
Accordingly, U22 Vietnam and the coaching staff will come back to Vietnam today afternoon to celebrate with fans. However, Van Hau will fly back to the Netherlands to assemble with Heerenveen.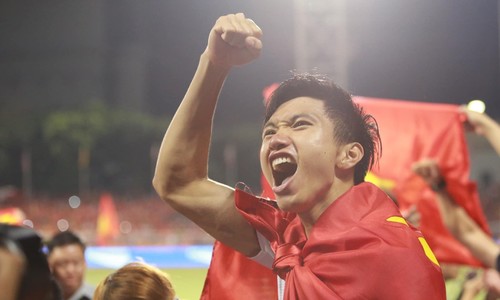 Doan Van Hau will not attend the AFC U23 Championship 2020 final with Vietnam as the initial agreement between Heerenveen and Hanoi FC specified that Van Hau is allowed to attend SEA Games 30th only. This is such a great loss for U23 Vietnam in the upcoming tournament.
SEA Games 30th is a successful season to Van Hau who actively join the defense and the attack. His brace in the final against Indonesia plays an important role in Vietnam's championship this year. Van Hau proved his progress since World Cup 2022 qualifiers to SEA Games 30th.
U22 Vietnam is set to fly to South Korea on Dec 13 to prepare for the AFC u23 Championship 2020 held in Thailand. The success in SEA Games will surely boost players spirit and determination to continue making new record.