Quang Hai beats Chanathip to become the best player of ASEAN
Author: Admin
11:08 | 14/11/2019
Vietnam's national team midfielder Nguyen Quang Hai has beaten many strong candidates to win the 2019 "AFF Player of the Year" title.
At the AFF Awards Night 2019, midfielder Quang Hai defeated other candidates to become the best player of the year in ASEAN. The AFF Awards ceremony was held in Hanoi on Friday night.
"I'm very happy to receive this honor. I'm graceful for the Vietnam Football Federation, my teammates, and my coaches at Hanoi FC club and the national team. Finally, I want to thank my family. I would like to give this award to all Vietnamese people.
The title will motivate me to continue devoting to Vietnam and bringing joy to everyone. Thank you!," Hai told the award ceremony.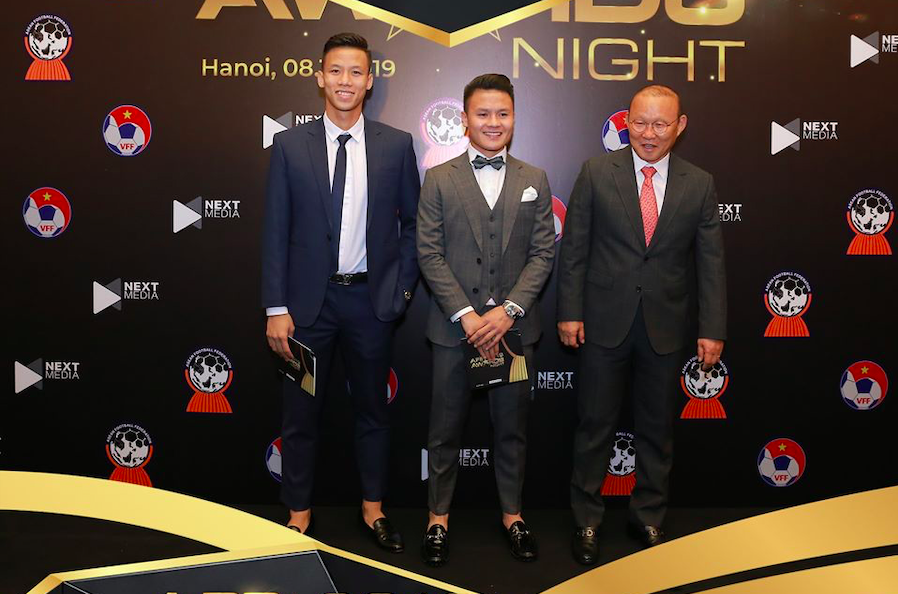 Hai's career has flourished over the past two years. The 22-year-old has participated  in every tournament at all levels and is praised as one of the brightest young stars in the region.
He was also honored as the best player of the V-League 2019 and is the No. 1 candidate for the Vietnam Golden Ball 2019.
Quang Hai is currently training with the national team to prepare for 2022 World Cup qualifiers against the UAE and Thailand this month. He is also a key player of the U22 team at the upcoming 2019 SEA Games in the Philippines.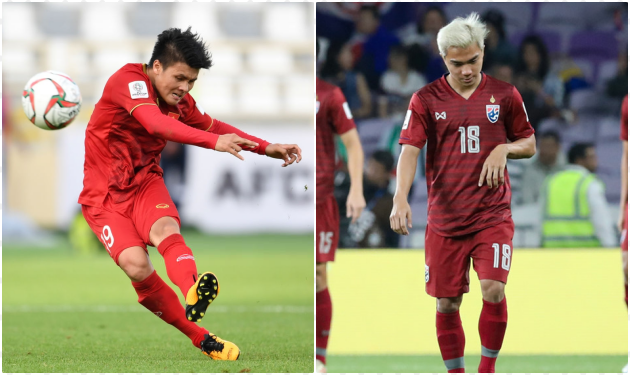 AFF Awards 2019:
- Assistant Referee of the Year (Men): Ronnie Koh Min Kiat (Singapore)
- Assistant Referee of the Year (Women): SupawanHinthong (Thailand)
- Referee of the Year (Men): Sivakorn Pu-Udom (Thailand)
- Referee of the Year (Women): Katherine Margaret Jacewicz (Australia)
- Youth Player of the Year: Suphanat Mueanta (Thailand)
- Futsal Team of the Year: Thailand
- Futsal Player of the Year: Tran Van Vu (Vietnam)
- Member Association of the Year: Football Association of Indonesia (PSSI)
- National Team of the Year (Men): Vietnam
- National Team of the Year (Women): Thailand
- Best Goal of AFF Suzuki Cup 2018: Muhammad Syahmi Safari (semifinals against Thailand)
- Coach of the Year (Men): Park Hang Seo (Vietnam)
- Coach of the Year (Women): Nuengrutai Srathongvian (Thailand)
- Player of the Year (Men): Nguyen Quang Hai (Vietnam)
- Player of the Year (Women): Pitsamai Sornsai (Thailand)
AFF Suzuki Cup 2018 Best 11
GOALKEEPER: Dang Van Lam (Vietnam)
DEFENDERS: Muhammad Syahmi Safari (Malaysia), Que Ngoc Hai (Vietnam), Muhammad Safuwan Baharudin (Singapore), Korrakot Wiriyaudomsiri (Thailand)
MIDFIELDERS: Stephan Schrock (Philippines), Mohamed Syamer Kutty (Malaysia), Sanrawat Dechmitr (Thailand), Riko Simanjuntak (Indonesia)
FORWARDS: Norshahrul Idlan Talaha (Malaysia), Nguyen Quang Hai (Vietnam)