Vietnam Nguyen Quang Hai's strike listed among Iconic AFC U23 Goals
Thứ năm, 19/12/2019 12:00 (GMT+7)
Nguyen Quang Hai's goal in the AFC U23 Championship 2018 final has been name in the Top 8 Iconic AFC U23 Goals.
The website of the Asian Football Confederation (AFC) describes his breathtaking freekick in the final of the 2018 tournament against Uzbekistan as the "Rainbow in the Snow".
Despite losing the final, Quang Hai's strike served to announce himself to football fans across the region, in addition to helping Vietnam's U23 side reach new heights.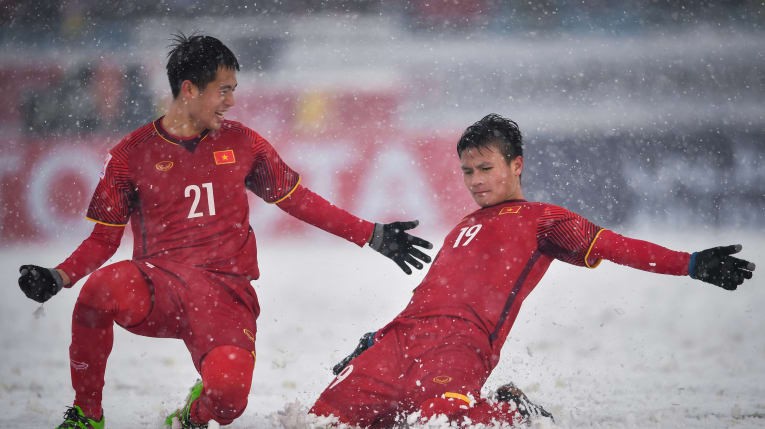 The list of the competition's top goals comes with the AFC U23 Championship 2020 set to open in Thailand on January 8, 2020, with the AFC hoping a remainder of the iconic moments in the tournament's history will serve to build excitement among fans.
Quang Hai and his teammates are currently taking part in a training course in the Republic of Korea in preparation for the upcoming AFC U23 Championship 2020 finals which will take place between January 8 and January 26 in Thailand.
Vietnam's U23s have been place in Group D alongside Jordan, the United Arab Emirates (UAE), and the Democratic People's Republic of Korea.
Vietnam will play fixtures against the UAE, Jordan, and the DPRK on January 10, 13, and 16, respectively.
The tournament's leading four teams will earn the right to compete in the 2020 Olympics in Tokyo, Japan.
8 Iconic Goals from the AFC U23 Championship
1. Zakaria Al Sudani (2014) (Saudi Arabia vs Uzbekistan, Group stage)
2. Abdelkarim Hassan (2016) (Qatar vs China PR, Group stage)
3. Ahmed Al Sarori (2016) (Yemen vs Uzbekistan, Group stage)
4. Mahdi Torabi (2016) (IR Iran vs China PR, Group stage)
5. Omar Maanasrah (2016) (Jordan vs Vietnam, Group stage)
6. Shoya Nakajima (2016) (Japan vs IR Iran, Quarterfinals)
7. Azizjon Ganiev (2018) (Uzbekistan vs Korea Republic, Semifinals)
8. Nguyen Quang Hai (2018) (Vietnam vs Uzbekistan, Final)
VIDEO: "Huênh hoang" tới lò Kickboxing thách đấu, cao thủ Kungfu biến thành "bao cát"
Một diễn đàn võ thuật tại Việt Nam đã chia sẻ đoạn Clip màn tỷ thí giữa một võ sĩ kickboxing chuyên nghiệp và võ sư cổ truyền.
Cập nhật lúc: 09:00:44 24/05/2022