Que Ngoc Hai to join Dang Van Lam in Thai League?
Thứ bảy, 23/11/2019 12:46 (GMT+7)
The SMM Sport Thailand wrote that Muangthong United is eyeing midfielder Que Ngoc Hai of Vietnam NT.
Que Ngoc Hai had an outstanding display at World Cup 2022 qualifiers. He also helped Vietnam keep cleansheet as much as possible as since Vietnam only conceded a goal in 5 matches. Vietnam captain also scored an important goal in the 3-1 victory over Indonesia.
The SMM Sport wrote: "SCG Muangthong United wants to recuit Vietnam captain midfielder Que ngoc Hai, who displayed well in the 2 draws to Thailand. The club hopes to get his signings like Dang Van Lam's last year. Que Ngoc Hai, 26, is 1.83 meters tall. He has serve the national team since 2014 and is playing for Viettel at V-League."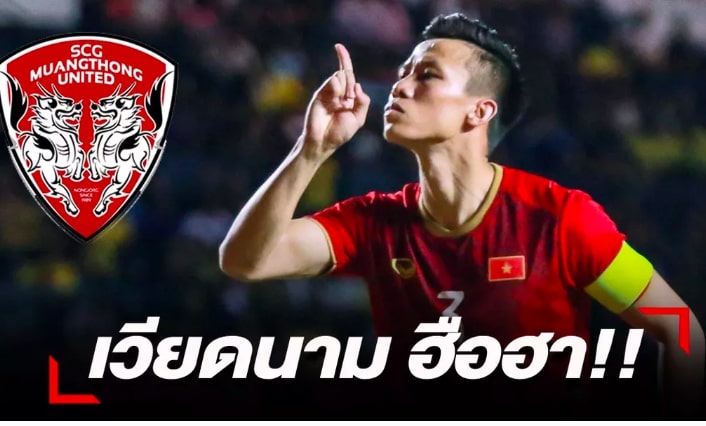 Muangthong United is Dang Van Lam's current club, one of the most traditional teams in Thai League. This season, they finished 5th with 46 points after their embarrasing period at the beginning of the season under coach Alexandre Gama's lead.
Dang Van Lam has a successful season in Muang Thong United. The 26-year-old played full 30 matches, a record of a Vietnamese players overseas.
VIDEO: "Huênh hoang" tới lò Kickboxing thách đấu, cao thủ Kungfu biến thành "bao cát"
Một diễn đàn võ thuật tại Việt Nam đã chia sẻ đoạn Clip màn tỷ thí giữa một võ sĩ kickboxing chuyên nghiệp và võ sư cổ truyền.
Cập nhật lúc: 08:45:15 25/05/2022