Indonesia Football Federation appoints new Indonesia coach Shin Tae-yong
Thứ hai, 23/12/2019 16:06 (GMT+7)
Indonesia media wrote that PSSI decided to appoint Shin Tae-yong to be Indonesia head coach.
According to the Indosports, the decision to appoint Mr. Shin Tae-yong has been spoken by Cucu Soemantri, Vice Chairman of the PSSI on the morning of December 23.
Accordingly, after sacking coach Simon McMenemy for poor performance, PSSI has appointed former Korean coach Shin Tae-yong to take the position of head coach of the Indonesian national team. Mr. Shin Tae-yong will officially debut Indonesian fans during the ceremony held on January 25.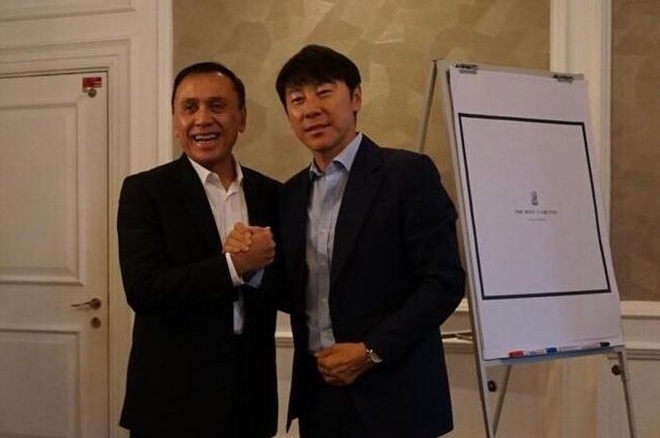 Currently, the Indonesian Football Federation (PSSI) has not announced the contract duration and value of the new coach Shin Tae-yong, but will notify the press after the PSSI Congress in January 2020.
PSSI's appointment of Shin Tae-yong also ended rumors of a Korean leader affiliated with Shenzhen FC. Previously, Shin Tae-yong was said to have reached an agreement with China's second-tier team and will join in the near future.
Mr. Shin Tae-yong is a very famous coach in Korea. As a player, he won the K League 1 with Seongnam Ilhwa Chunma and won the AFC Champions League in 1995.
When he started coaching and helped Seongnam Ilhwa Chunma to win the AFC Champions League in 2010 and helped the Korean team win the 2017 East Asia Cup.
Shin Tae-yong's peak was in 2018 when he helped the Korean team gain the right to attend the 2018 FIFA World Cup after becoming the back up plan for coach Uli Stielike.
At the 2018 FIFA World Cup, coach Shin Tae-yong could not help South Korea win the right to qualifiy for the group stage but made a strong impression when the Korean team defeated Germany with a score of 2-0, officially knock the defending champion out of the tournament.
Becoming the head coach of Indonesia, Mr. Shin Tae-yong will be responsible for leading the team of the island nation to play well in the remaining matches of the 2022 World Cup qualifiers, towards the Asian Cup qualifiers 2023.
VIDEO: "Huênh hoang" tới lò Kickboxing thách đấu, cao thủ Kungfu biến thành "bao cát"
Một diễn đàn võ thuật tại Việt Nam đã chia sẻ đoạn Clip màn tỷ thí giữa một võ sĩ kickboxing chuyên nghiệp và võ sư cổ truyền.
Cập nhật lúc: 09:45:15 24/05/2022