Coach Nishino to renew the contract with Thailand before the end of December
Thứ năm, 12/12/2019 14:54 (GMT+7)
The contract between coach Akira Nishino and the FAT will soon be renewed before he leads the Thailand's U23 team to the AFC U23 Championshipw 2020 Finals.
Earlier, after two months of working, Nishino brought a positive face to the Thai national team.
This made FAT officials pleased and quickly offered to renew the contract with the Japanese stratergist.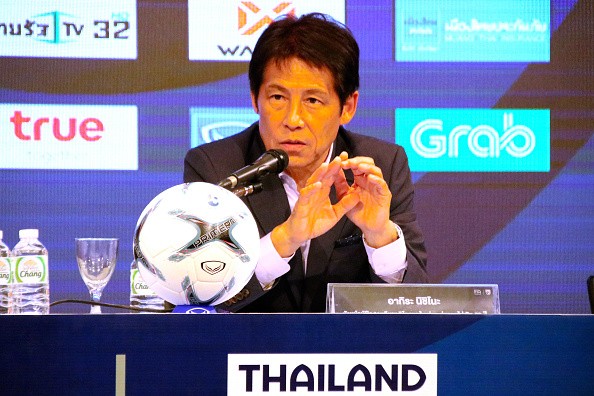 Despite the fact that the U22 team failed at SEA Games, President Somyot Poompanmoung also confirmed that the contract of the two sides will be renewed soon.
"FAT will, of course, extend its contract with Nishino until 2021 and this is for sure. The official contract will be signed soon," said Somyost Poompanmoung Chairman.
Somyot President and Mr. Nishino during the first signing ceremony in mid-July.
According to Siamsports, coach Nishino recently read and thoroughly studied the contents of the new contract, he will also have discussions with FAT to re-sign before summoning for AFC U23 Championship 2020 finals at the end of the month.
The newly signed contract will be extended until 2023 with the goal reaching the third qualifying round of the 2022 World Cup and participating in the Asian Cup 2023.
Nishino coach is ready to extend the contract with the FAT.
Earlier, the 64-year-old leader also signed the first contrac with a compensation of up to $ 970,000.
Regarding the U23 team, coach Nishino will summon players on December 26, the War Elephants will have about two weeks before competing in the most prestigious youth tournament held at home.
VIDEO: "Huênh hoang" tới lò Kickboxing thách đấu, cao thủ Kungfu biến thành "bao cát"
Một diễn đàn võ thuật tại Việt Nam đã chia sẻ đoạn Clip màn tỷ thí giữa một võ sĩ kickboxing chuyên nghiệp và võ sư cổ truyền.
Cập nhật lúc: 09:15:15 24/05/2022