Thai media highlights 4 Vietnamese players ahead of World Cup 2022 qualifiers
Author: Admin
17:00 | 11/11/2019
Fox Sports Thailand has warned the Thai national team of 4 Vietnamese internationals ahead of their World Cup qualifier on November 19.
Coach Park Hang-seo has announced the 25 players who will make his squad for the upcoming FIFA World Cup 2022 Asian Qualifiers matches against the UAE and Thailand.
The 60-year-old tactician dismissed Tran Van Kien (Hanoi FC), Pham Xuan Manh (SLNA), Ngo Hoang Thinh (HCM FC), Nguyen Viet Phong (Viettel) and Ngan Van Dai (Hanoi FC).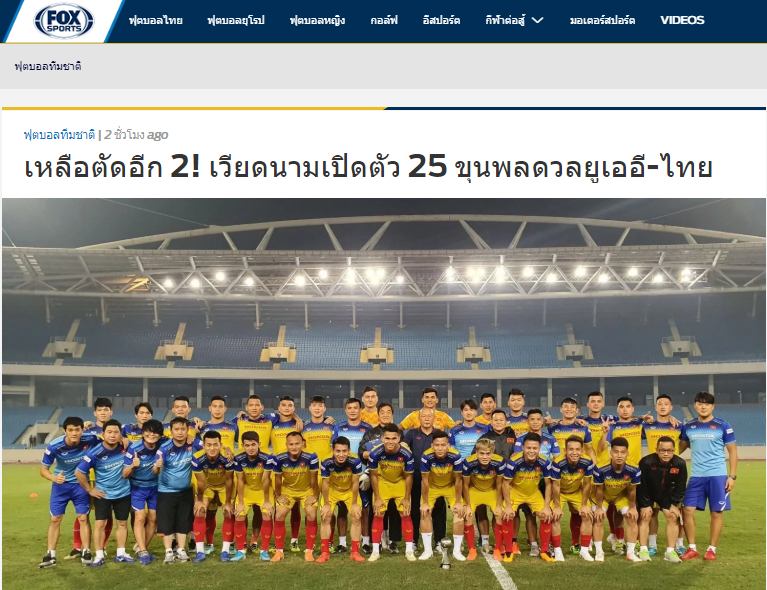 He summoned three U22 players: Trong Hung (Thanh Hoa), Tien Linh (Binh Duong), and Hoang Duc (Viettel).
"The squad features most of the best Vietnamese players at the moment, including goalkeeper Van Lam ( SCG Muang Thong United), midfielder Nguyen Quang Hai (Hanoi FC), forward Nguyen Cong Phuong ( Sint-Truidense) and  left-back Doan Van Hau (Heerenveen)," said Fox Sports Thailand.
The list of 25 will be shortened to 23 players one day before the match.
Vietnam's 25-man preliminary squad:
Goalkeepers (3): Dang Van Lam (Muangthong United), Nguyen Tuan Manh (Sanna Khanh Hoa BVN), Pham Van Cuong (Quang Nam)
Defenders (7): Nguyen Thanh Chung (Hanoi), Do Duy Manh (Hanoi), Nguyen Huu Tuan (Ho Chi Minh City), Doan Van Hau (Heerenveen SC), Que Ngoc Hai (Viettel), Bui Tien Dung ( Viettel), Le Van Dai (Thanh Hoa)
Midfielders (9): Vu Van Thanh (HAGL), Nguyen Phong Hong Duy (HAGL), Nguyen Tuan Anh (HAGL), Pham Duc Huy (Hanoi), Nguyen Quang Hai (Hanoi), Do Hung Dung (Hanoi) ), Nguyen Huy Hung (Quang Nam), Nguyen Trong Hoang (Viettel), Nguyen Hoang Duc (Viettel)
Forwards (6): Nguyen Van Toan (HAGL), Nguyen Cong Phuong (Sint Truidense), Nguyen Anh Duc (Becamex Binh Duong), Ha Minh Tuan (Quang Nam), Nguyen Tien Linh (Becamex Binh Duong), Nguyen Trong Hung (Thanh Hoa)