Vietnam squad for 2020 AFC U19 Championship qualifiers finalized
Author: Admin
10:01 | 07/11/2019
Vietnam's coach Philippe Troussier has announced his 24-player roster for the 2020 AFC U19 Championship qualifiers to be held in Vietnam.
Goalkeeper Lam Dinh, defender Hoang Phuc, midfielder Tien Sinh, and forward Xuan Tao were excluded.
Only one HAGL player, Nguyen Thanh Khoi, was named because the club's junior players have recently been lagging behind their peers in Hanoi, Viettel, and PVF.
Huynh Cong Den (Pho Hien), Tran Manh Quynh (SLNA), and Nguyen Van Tung (Thanh Hoa) continued to be called up thanks to their impressive performance at the GBS Bangkok Cup 2019.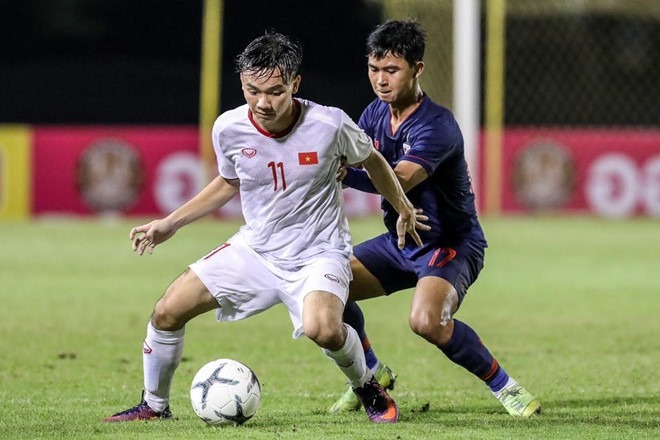 Vietnam U19 will take on Mongolia on November 6, Guam on November 8, and Japan on November 10 at Thong Nhat stadium in HCM city.
11 group winners and 4 best second-placed teams will qualify for the 2020 Championship in Uzbekistan. If Uzbekistan wins a ticket, the fifth best second-placed team will be qualified.
Vietnam U19 squad:
Goalkeepers (3): Y El Li Ni E (Dak Lak); Nguyen Van Ba (SLNA), Quan Van Chuan (Hanoi)
Defenders (8): Vu Tien Long (Hanoi), Luong Duy Cuong (SHB Da Nang), Ho Khac Luong (SLNA), Tran Quang Thinh (CAND), Phan Tuan Tai (Viettel), Trinh Quang Truong (Pho Hien ), Nguyen Duy Triet (Pho Hien) and Tran Ngoc Son (PVF)
Midfielders (7): Ngo Duc Hoang (Hanoi), Pham Van Huu (SHB Da Nang), Dang Quang Tu (SLNA), NguyenHuu Nam (Viettel), Vo Minh Trong (Dong Thap), Huynh Cong Den (Pho) Hien, Nguyen Thanh Khoi (HAGL)
Forwards (6): Nguyen Van Tung (Hanoi), Tran Manh Quynh (SLNA), Tran Quoc Dat (Thanh Hoa), Nguyen Van Tung (Thanh Hoa), Nguyen Kim Nhat (Viettel), Do Tan Thanh (Pho Hien )