U23 Thailand will be friendly with the 'Asian giant'
Author: Admin
10:39 | 28/12/2019
U23 Thailand will have quality tests before the AFC U23 Championship 2020 takes place at home.
In order to prepare for AFC U23 Championship  2020, U23 Thailand will play friendly in turn with two rivals Bangkok United and U23 Saudi Arabia. Akira Nishino made such a statement to the local press on December 26.
The match against Bangkok United will take place on December 28. Then U23 players will be able to rest on New Year's eve. The list of 23 players officially attending AFC U23 Championship  2020  will also be announced at this time.
U23 Thailand will have the final test against U23 Saudi Arabia. Both of them affirmed their ambition to win tickets to the Tokyo 2020 Olympics, so this match is a good opportunity to perfect the preparation.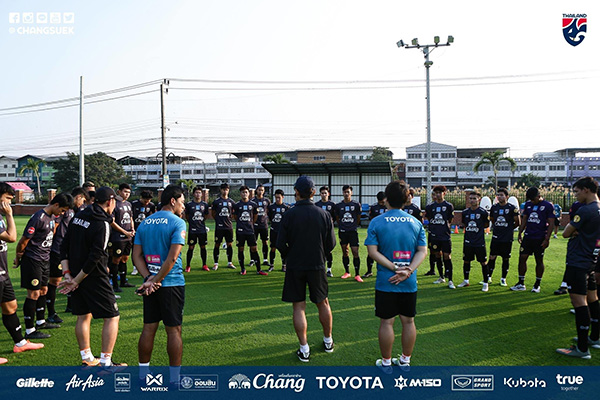 U23 Thailand in the first meeting on December 26. Photo: FAT
Saudi Arabia is the major football country ASEAN. Abundant financial resources and a tradition of football development help them always be classified in the group of 'Asian giants' with Japan, Korea, Iran, Australia, ...
In the history, the team nicknamed the Blue Falcon, has attended all the organizers (2013, 2016, 2018, 2020). The U23  Saudi Arabia also won the runner-up in 2013 when they lost to Iraq U23 in the final.
In addition, coach Akira Nishino also revealed more information about the personnel situation of U23 Thailand. Four players including Sittichok Paso, Non Muang Ngam, Kevin Diaram and Chaturaphat Satham are still practicing separately because of injury.
Ben Davies is expected to strengthen Thailand U23 at the U23 Asian Cup 2020
On December 26, 33 Thai U23 players started at the Summit Windmill Golf Club under the direction of coach Akira Nishino. During the first training session, the whole team focused on physical fitness for more than 1 hour.