U22 Vietnam's strongest lineup against U22 Indonesia
Author: Admin
13:48 | 19/12/2019
The biggest worry of U22 Vietnam before the final with U22 Indonesia is in the goalkeeper position, but Park can partly relieve after Nguyen Van Toan's successful save against Keo Sokpheng on Cambodia's side.
The following is our prediction for the U22 Vietnam squad, all official decisions as well as the official lineup will be announced by Park Hang-seo.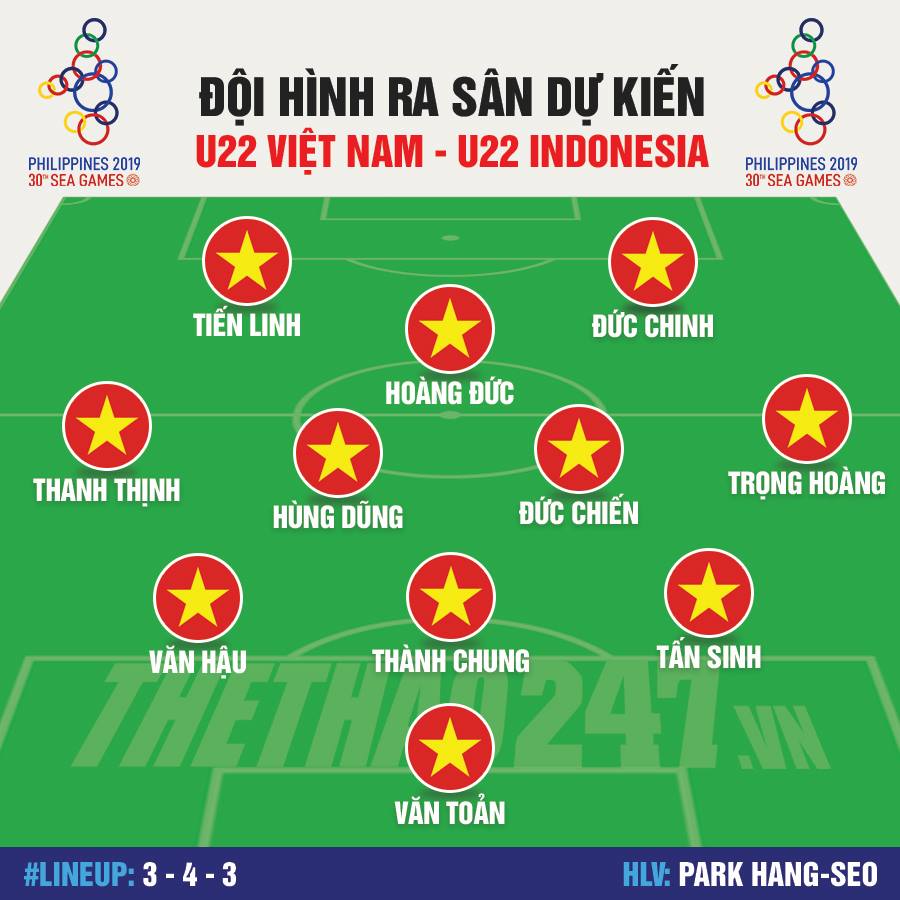 After an easy win against U22 Cambodia in the semi-finals of SEA Games 30, U22 Vietnam will enter the final with U22 Indonesia, the team impresses by defeating most of the opponents, except for U22 Vietnam.
The goalkeeper position is probably no longer a concern as goalkeepr Van Toan excellently made a good save by the end of the semi-final against U22 Cambodia, Van Toan certainly is more confident after he made a mistake in the match against Thailand. He is definitely the No. 1 choice in front of the goal.
The central defender  trio of U22 Vietnam will likely still be Van Hau, Thanh Chung and Tan Sinh.
In the center of midfield, Do Hung Dung is obviously the No. 1 choice of U22 Vietnam. The other one will be Nguyen Duc Chien. Perhaps Coach Park Hang-seo put safety first
Thanh Thinh will likely take the left wing, who possesses a comprehensive defensive ability.
On the opposite wing, Coach Park Hang-seo will use Trong Hoang as usual. The mission of the wings in the final was extremely important because Indonesia attacked very well.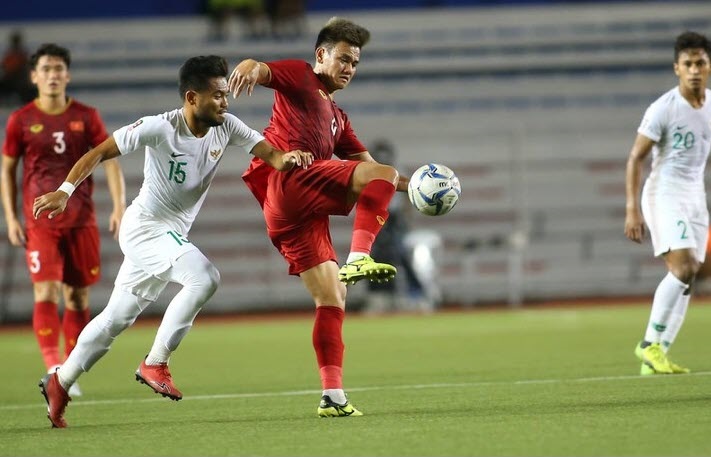 In attack, it is possible that the striker duo Duc Chinh - Tien Linh continue to play from the beginning. After suffering pain in the semi-final, Tien Linh has been confirmed that he can still participate in the final of the 30th SEA Games 30. Park Hang-seo's use of both Duc Chinh and Tien Linh in the starting line-up against Cambodia is not certainly a test.
Playing a bit lower on the attack is Hoang Duc, who is responsible for connecting the midfield with the frontline, playing alongside Hung Dung to lead the team's play. He scored to thrash Indonesia's U22 in the SEA Games 2019 group stage.
The final match between U22 Vietnam vs U22 Indonesia will take place at 7:00PM on Dec 10. This will be an opportunity for U22 Vietnam to bring back the historic gold medal for men's football at SEA Games 30.