Van Quyet shines, Hanoi FC crowns National Cup Champions
Author: Admin
16:00 | 03/11/2019
Van Quyet helped Hanoi defeat Quang Nam and win the National Cup in 2019.
On October 31 afternoon, the 2019 National Cup final between Quang Nam and Hanoi FC was held on Tam Ky Stadium. In this match, coach Chu Dinh Nghiem launched a very strong squad with Quang Hai, Van Quyet, Kebe or Van Dai.
On the other side of the battle line, coach Vu Hong Viet also has all the best players like Samson, Hong Son or Huy Hung.
Despite being underestimated, coach Vu Hong Viet surprised the visitors when he asked Quang Nam FC to play fairly. The home team's strikers continuously threatened Phi Minh Long's net in the first minutes.
However, the defense of Hanoi FC stood firm and gradually regained the domination. Th possessing skills allowed coach Chu Dinh Nghiem side to continuously bombard Van Cuong's net.
Attacking a lot but not getting a goal, the capital team got damaged when defender Nguyen Thanh Chung scored an own goal, which helped Quang Nam to open the score in the 35th minute.
Entering the second half, coach Chu Dinh Nghiem made adjustments in personnel and tactics. Hanoi new factor have cleared the deadlock in finding their way into the box. 
67 minutes, Nguyen Van Quyet deftly controlled and then shot into the far corner to defeat goalkeeper Van Cuong, scoring the equalizer 1-1 for Hanoi FC. Minutes later, Hanoi increased pressure to resolve the game in 90 minutes.
Meeting the expectations of Hanoi fans, captain Van Quyet continued to shine with a clear pass to set up Ibou Kebe escape, unleash a deadly finish to defeat Van Cuong, raising the score to 2-1 in the 82nd minute, also the final score for the match.
With a 2-1 victory over Quang Nam, Hanoi FC has officially won the National Cup championship in 2019.
90 ': The match ends
82 ': GOALLL
Kebe shone, put Hanoi FC ahead 2-1.
79 ': DANGEROUS !!!
Van Quyet has 2 consecutive opportunities to finish, but the number 10 striker cannot beat Van Cuong.
67 ': GOALLL !!!
Van Quyet deftly controlled and then shot into the far corner to beat goalkeeper Van Cuong, equalizing 1-1 for Hanoi FC.
53 ': DANGEROUS!!!
Van Quyet broke into the penalty area and shot at a narrow angle but goalkeeper Van Cuong collapsed to catch the ball.

45 ': THE FIRST HALF ENDS
40 ': MISSED
Goalkeeper Van Cuong excelled and successfully blocked Kebe's strong header.
35' GOALLL
Quang Nam scores the first goal due to Hanoi's goalkeeper Thanh Chung's mistake, who scored an own goal, making Quang Nam a 1-0 lead.
25' Slippery pitch
The match still takes place at a fast pace, both teams play attacking football. However, the slippery surface of the court greatly affected the play of Hanoi and Quang Nam.
15' MISSED
Quang Hai has a chance to finish inside the box but it targets wrong direction
14' DANGEROUS
Ha Minh Tuan goes down, fires a dangerous shot but the ball misses the net.
11' NO GOAL
Phi Minh Long makes mistake, Duy Manh fixes it by neutralizing the opposing player on the white line.
9' MISSED
Van Kien set up Van Dai yet he could not convert the chance
5' DANGER
Hang Vu Samson runs down, Hanoi FC Duy Manh quickly neutralized him before Samson finishes.
1' DANGER
Hanoi FC actively dominates the game, but Van Cuong saved the home team.
The game starts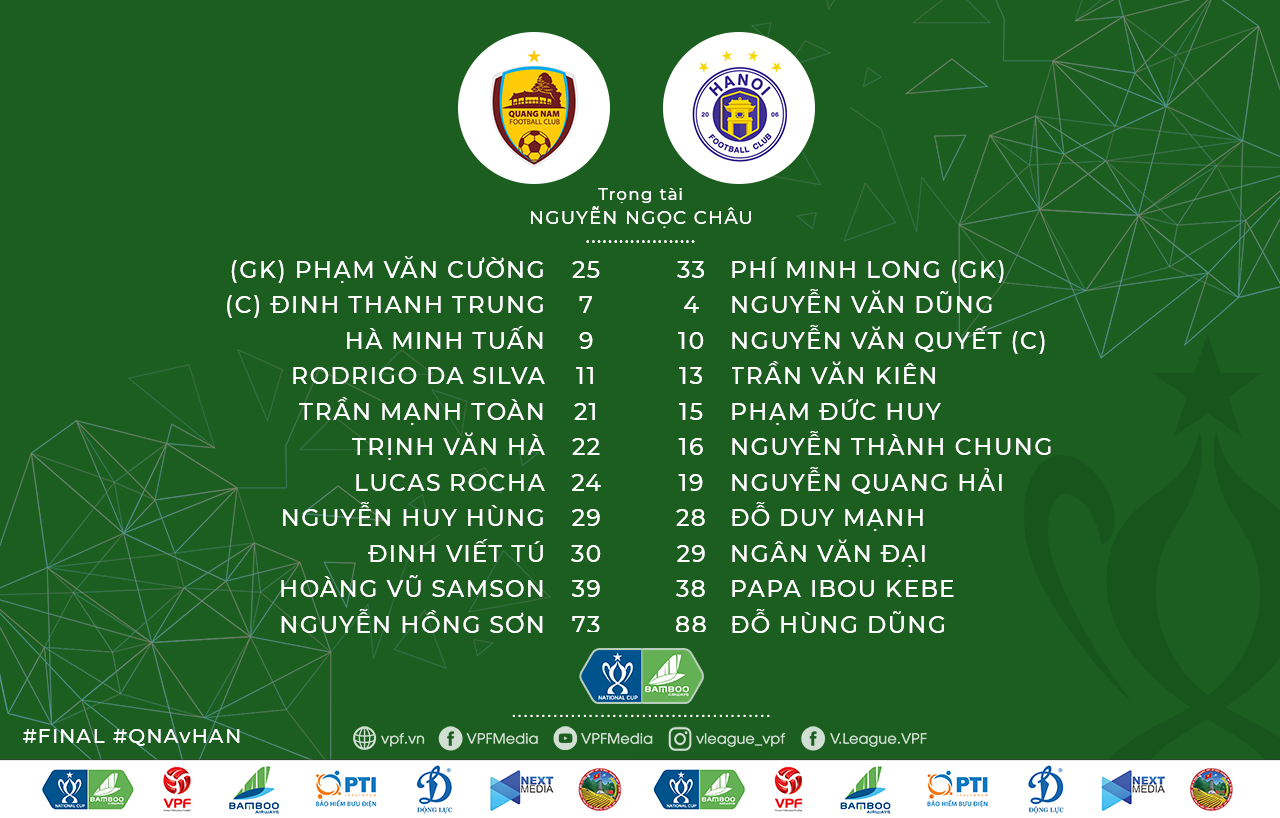 The final of the National Cup 2019 between Hanoi vs Quang Nam will be held in Quang Nam province. This is a title that both sides have neve won before, while Hanoi FC is craving for the only cup they lack in their Trophy room.
In this match, Quang Nam FC has home advantages with a former Hanoi FC player Hoang Vu Samson who understands well his old club. However, Hanoi is considered stronger with quality squad. Omar will not join the final due to suspension.
It is likely that Chu Dinh Nghiem will use Papa Kebe to replace Omar on the attack. The French player is having high form with aggressive play style and score countless goals.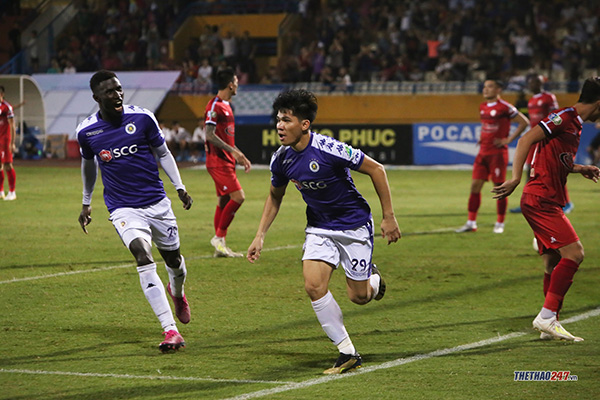 Quang Nam FC coach shared: "The first time at the National Cup fina, we are happy and expecting a good outcome in the last match of the season."