Goalkeeper Siwarak named Thailand's new captain
Thứ năm, 12/09/2019 18:00 (GMT+7)
Thailand's head coach Akira Nishino has appointed a surprise candidate to be the captain of the War Elephants ahead of the 2022 FIFA World Cup qualifiers on Thursday.
Muangthong United's veteran forward Teerasil Dangda was the previous captain of the Thai national squad. He suffered an injury and did not make the list prepared by Nishino for the fixtures set to face against Vietnam and Indonesia in the  World Cup qualifying rounds slated for Thursday and  next Tuesday.
Akira Nishino was then forced to pick new captain for the campaign:  Buriram United goalie Siwarak.
Siwarak, 35, has had nearly 400 appearances for the Thunder Castles, but he only won 19 caps at the national level.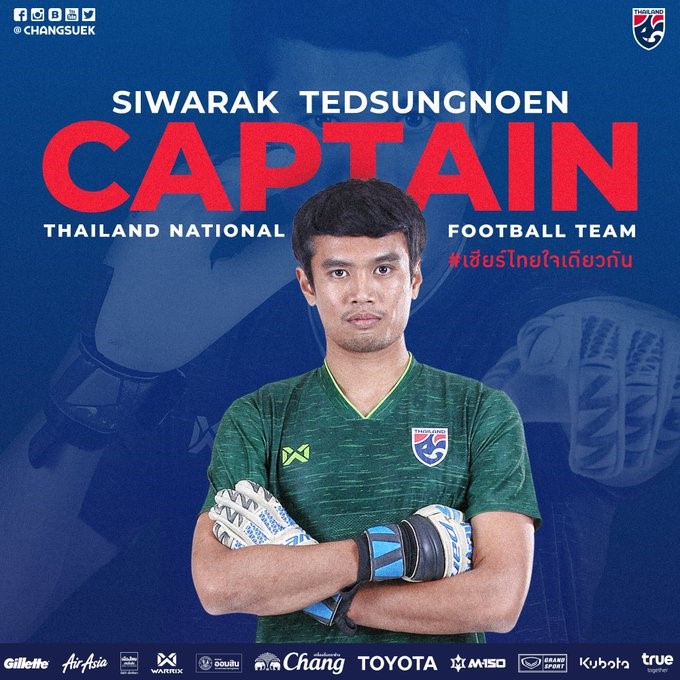 Nishino's decision was surprising as Siwarak was expected to be the deputy of a recovered Kawin during the qualifiers.
After deputizing for Kawin during the AFF Suzuki Cup 2018, Siwarak was brought back as the first-choice goalmouth at the AFC Asian Cup 2019 to replace Chatchai Budprom under the bar and produce some eye-catching displays in the continental championship.
VIDEO: "Huênh hoang" tới lò Kickboxing thách đấu, cao thủ Kungfu biến thành "bao cát"
Một diễn đàn võ thuật tại Việt Nam đã chia sẻ đoạn Clip màn tỷ thí giữa một võ sĩ kickboxing chuyên nghiệp và võ sư cổ truyền.