Hanoi FC coach defends Bui Tien Dung for conceding goal
Author: Admin
14:09 | 26/09/2019
Hanoi FC coach Chu Dinh Nghiem said goalie Bui Tien Dung was not to blame for the goal conceded in the game against North Korea's SC.
Nghiem defended Bui Tien Dung at a press conference after the match on September 25 in Hanoi's Hang Day Stadium.
Hanoi's goalkeeper Van Cong suffered a serious injury in the 36th minute as Hanoi led 2-1, forcing  coach Nghiem to field Bui Tien Dung.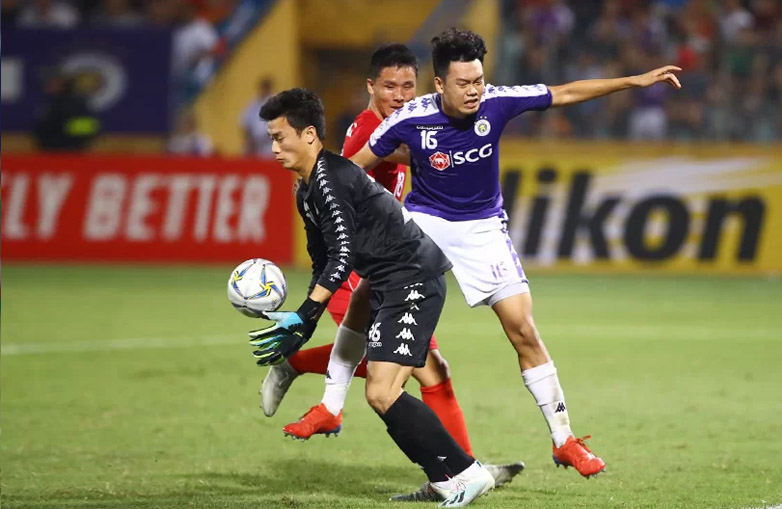 While Dung played quite well on the pitch,  Kim Yu-song found the net in the 87th minute, sealing the 2-2 draw. The draw will complicate matters for Hanoi  as they face their  second leg away game.
Chu Dinh Nghiem assessed the team's performance.
"I think we can't blame Bui Tien Dung  for that situation. The opponent made an excellent shot from a long distance. It's a low percentage shot which happened to get through," said Nghiem.
"I am satisfied with the match but it was unfortunate that the offensive line missed multiple chances. Our defense was good and our opponent had only 1 or 2 chances to score."
In the second leg match, Hanoi FC must win or at least get a 3-3 draw to move on. In case they find themselves in a 2-2 draw, they will go into overtime.