Czech goalie applauds Vietnam's victory over Indonesia
Author: Admin
14:02 | 23/10/2019
Czech goalie of Vietnamese origin Filip Nguyen has congratulated Vietnam National Team for their victory, which has nurtured their dream to move on in the World Cup 2022 campaign.
"The changed line-up of the Ceská Fotbalová Representace lost to Northen Ireland. Vietnam Football got an important three points from an away match in qualification group to WC 2022," Filip Nguyen wrote on his social media page.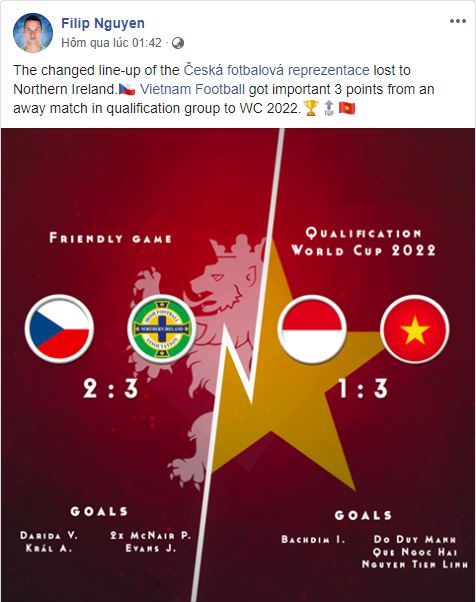 The Czech-born player, one of the best goalkeepers in the Czech National Cup Tournament, has a special bond for his homeland.
Nguyen recently submitted his Vietnamese citizenship naturalization file and is waiting for the confirmation from the authorities. Head coach Park Hang-seo left open the possibility for him to play for Team Vietnam.
Vietnam will play two home games against UAE and Thailand on Nov 14 and Nov 19. If Filip Nguyen is featured in the squad, Vietnam's defense will be stronger with two foreign-born excellent goalies Dang Van Lam and Filip Nguyen.