Park: Team Vietnam won't be complacent about match against UEA
Author: Admin
17:21 | 15/11/2019
Head coach of the Vietnam national football team Park Hang-seo and goalkeeper Dang Van Lam talked to reporters at a press conference on November 13, one day before their match against UAE in the World Cup 2022 Qualifiers.
Park said he analyzed thoroughly UAE's playstyle and coach Bert Van Marwijk's philosophy.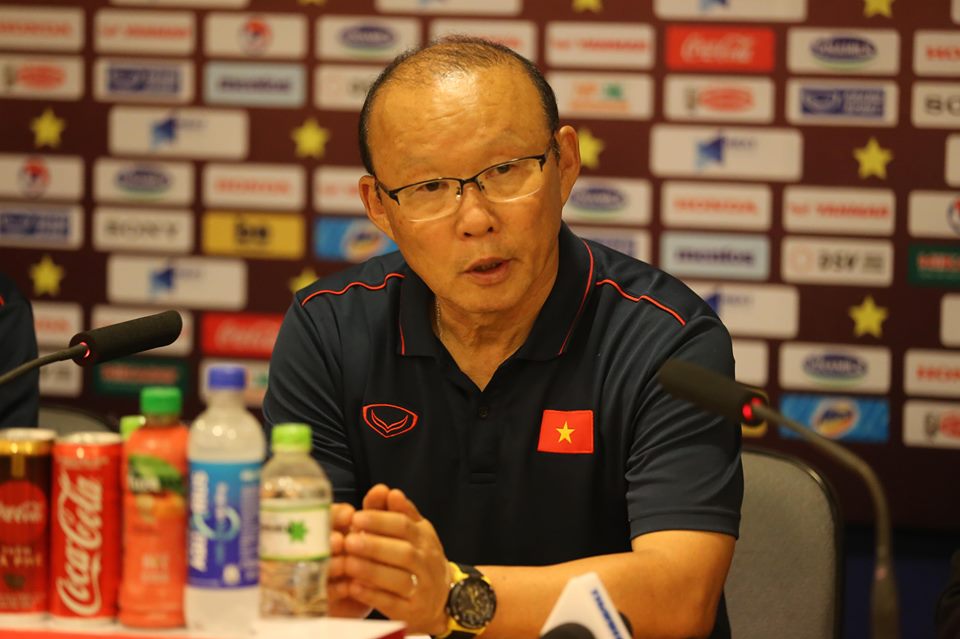 What do you expect for the upcoming match and what do you think about UAE?
Head coach Park Han-seo: We want to win in every match, no matter who we face or where we play. My renewed contract will take effect in January, so it doesn't affect what I have done for this match.
UAE has two wins and one loss, so the match against Vietnam will be is decisive for them.
Coach Marwijk led many strong teams like Australia. I am trying to get to know more about him. He prefers defensive and counter attack. He wants careful study to attack the opponent's weaknesses.
The UAE will play with a strong focus and at a certain time of the match gamble everything for a goal. We have contingency plans for these situations.
The UAE has good physique, prefer crossball. How will Van Lam cope with it?
-Goalie Dang Van Lam: The UAE team is  physically strong, the coaching team and I have discussed this matter. We will  get ready for tomorrow match.
Did the UAE's last defeat to Thailand surprise you and did you change your original plan?
- Head coach Park Hang Seo: Football is unpredictable, the UAE's defeat to Thailand is far from being special. It has no effect on our plan. We will approach the match with the most suitable tactical options.
Could you reveal the final 23-man roster? Could you speak more about the performance of Van Hau and Cong Phuong?
- Head coach Park: The atmosphere and spirit of the team is very good. Do Hung Dung is suffering from an injury but doctor said it will not prevent him from playing.
We have 25 players and have to trim to the 23-player list, I haven't talked to the two eliminated players, who I don't want to announce here.
Cong Phuong and Van Hau returned to the national team, they laughed, talked a lot, and got along well with their teammates. They might feel jetlag. But they slept 8 hours so it's not a problem. Their health is good, but I need to watch their performance before making a decision.
The UAE coach said Vietnam is the strongest team in Group G, what do you think?
- Head coach Park Hang Seo: I appreciate the UAE coach's comment but we are not complacent.
I think he will gamble every thing in this match. I know the UAE is missing players No.7, No.13, and No.14. They are definitely well prepared for the match against us and Mr. Marwijk is competent enough to make changes in the next match. We have to prepare counter measures.
How will Vietnam play under rainy weather and in case the UAE will also play counter-defense?
- Head coach Park Hang Seo: The bad weather might not occur tomorrow, today is more likely to rain.
Coach Marwijk did say that he would play counter-defense and that is his philosophy, but I don't care what he said. I have my own plan for the next match.