Heerenveen coach promises to use Van Hau next year
Author: Admin
09:44 | 24/12/2019
Coach Johnny Jansen confirmed that Doan Van Hau plays an important role in the second phase, especially when the team is looking forward to the Europa League.
Right after U22 Vietnam got the gold medal in SEA games 30th, left back Doan Van hau came back to the Netherlands and was honored in front of numerous fans of Heerenveen's home field in the match against Willem II.
According to the schedule, Heerenveen has 2 more matches at home in 2019 against Roda JC in the second round of the Dutch Cup before facing Heracles 4 days later.
But the opportunity for Van Hau in these 2 matches is not much.
Heerenveen's coach Johnny Jansen was adamant: "Van Hau's gold medal in the SEA Games was a remarkable achievement. He did a great job with U22 Vietnam. Heerenveen hopes to take advantage of Van Hau's ability in the future. However, the opportunity for Van Hau to play a few minutes for the team in 2019 is nearly impossible."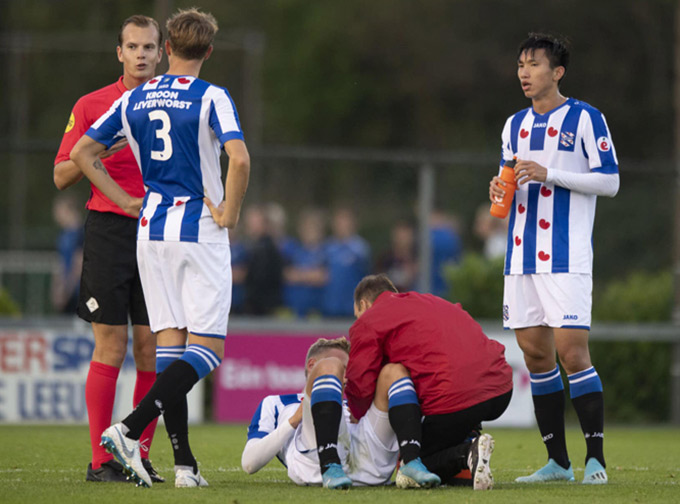 However, the 44-year-old stratergist said: "Van Hau just needs to wait for his moment in 2020. He will be needed for the second half of the season. Van Hau is a capable person but recently, he temporarily left the team for nearly 6 weeks. Meanwhile, we are in a stressfull  period and must conquer many important arenas before the winter break."
At present, after 17 rounds, Heerenveen is ranked 7th in the Dutch league table with 27 points, which could help Heerenveen  enter the qualifying round to attend the Europa League season 2020.
However, Johnny Jansen and players are still determined to improve their position further in the second leg.
Van Hau will not be present with U23 Vietnam in AFC U23 Championship 2020 finals in January.