Tien Dung sets goal to take a slot in AFC U23 Championship
Thứ ba, 31/12/2019 17:00 (GMT+7)
Goalie Bui Tien Dung is determined to find his form and advance to the final of AFC U23 Championship 2020 with Vietnam.
"Players are well-prepared both physically and mentally for the AFC U23 Championship," Tien Dung shares, "In each tournament, players should do their best for the national team and for their future. My goal is to find my high form and to be tapped . besides I want the whole team to do their best and go to the final then advance to the Olympic Tokyo 2020."
Tien Dung, who was the hero in AFC U23 Championship 2018 two years ago, is currently unable to gain a slot in the squad. The HCMC FC goalie will compete with Van Toan for the place.
"I am familiar with the pressure," he added, "Goalkeeper position is different from the others, one mistake could lead to criticism. We must get used to that pressure to regain the spirit for the next task."
Two weeks ago, Bui Tien Dung left Hanoi for HCMC FC, the Thanh Hoa-born considers this is a motivation to complete himself.
"Moving to HCMC is a challenge requiring more effort," he said. "I never think the position will surely belong to me. Challenges will be my motivation."
U23 Vietnam will visit Thailand on Jan 1. The team will take on Bahrain on Jan 3 before entering the tournament.
AFC U23 Championship 2020 finals will kick off on Jan 8 with the participation of 16 teams.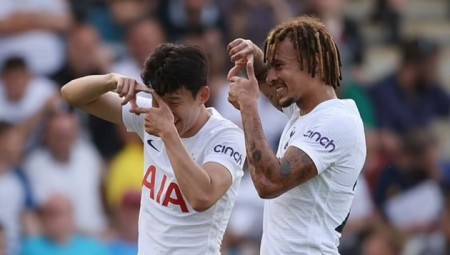 VIDEO: Không cần Harry Kane, Son Heung Min tỏa sáng giúp Tottenham đại thắng
Tottenham có trận giao hữu với Colchester. Dù không có sự xuất hiện của trụ cột Harry Kane tuy nhiên ngôi sao Son Heung Min vẫn đủ khả năng lĩnh xướng hàng công Spurs với 1 bàn thắng và 1 kiến tạo.
Cập nhật lúc: 07:55:09 25/05/2022