Tuan Anh and Van Toan receive desirable salaries at HAGL
Author: Amelia
21:00 | 21/04/2020
Compared to the common salary in V.League, Tuan Anh, Van Toan, Van Thanh ... are getting very good incentives at HAGL
Recently, midfielder Nguyen Tuan Anh claimed to be very happy and just wants to play for HAGL. "I will not go anywhere. I feel happy to practice every day, every week to play on the pitch, fight for the color of the HAGL shirt" - Thai Binh player shared.
Bau Duc has affirmed that Hoang Anh Gia Lai has no ambition to compete for the V.League, so why would a talented Vietnamese player like Tuan Anh want to dedicate his youth to Nui Street team?
Does that deprive from HAGL president  Doan Nguyen Duc? When spending a lot of money to bring Vietnam midfielder to South Korea for surgery, although Hoang Anh Gia Lai Group is in a difficult financial time.
The players play football with passion, but they also need money to cover their lives. Understanding the player's need, Duc paid the pillars of the Hoang Anh Gia Lai Club salary that made many other V.League players jealous.
According to some sources, Van Toan, Tuan Anh, Van Thanh, Xuan Truong ... are being paid up to 40 million VND / month. The best players of the 1st course of JMG received VND 20 million when they first came to V.League in 2015.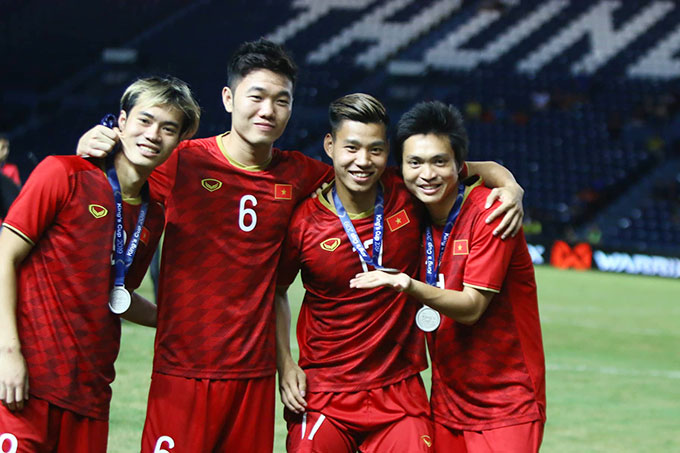 The salary of Tuan Anh and Van Toan is high in Vietnam. The best football player in Vietnam Nguyen Quang Hai also receives a salary of 30-35 million / month.
Even that is the dream of the 'poor' teams like SLNA. The number 1 star of the current Nghe football team, Phan Van Duc, is paid 20 million VND / month. The remaining players only average 8-10 million / month.
In the context of the outbreak of Covid-19, football was greatly affected, many teams in the V.League have planned to cut the salary of the players. However, Duc decided to keep the income for Tuan Anh, Van Toan and his teammates.