U23 Thailand anxious prior to the AFC U23 Championship 2020
Thứ hai, 06/01/2020 14:25 (GMT+7)
The preparation of U23 Thailand is facing some troubles as key players are injured before the tournament.
Akira Nishino is facing difficulties during the preparation for the AFC U23 Championship 2020 finals. U23 team has a friendly match with Saudi Arabia to test players ability.
The match was expected to have three halves. However, the two teams only played in 2 halves due to some communication problems. This makes coach Akira Nishino unable to test all the players in the squad. As a result, U23 Thailand suffered a 0-1 defeat against U23 Saudi Arabia.
After the match, the Japanese strategist said: "The players show that they are starting to better understand the tactics and the play that I want to apply. Despite the loss, I am satisfied because Thailand's U23s is having positive signs of progress.
The match didn't go as we expected (only playing 2 rounds), so I couldn't use all 23 players in this match. Hopefully U23 Thailand can have another friendly match so that the players can understand the tactics of the coaching staff."

"Currently, the team has two injured players, Airfan Doloh and Suphanat. Both of these cases must be observed and reevaluated before the tournament starts. Especially with Airfan Doloh, We have to take him to the clinic again before making a final decision," Akira Nishino added.
Thailand will be in the same group with Australia, Iraq and Bahrain. This is considered a difficult group for the Golden Temple team, but coach Akira Nishino still aims to pass the group stage. The first match of Thailand will be with U23 Bahrain on January 8.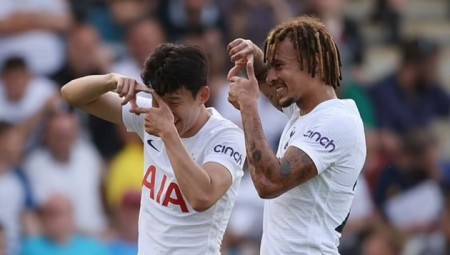 VIDEO: Không cần Harry Kane, Son Heung Min tỏa sáng giúp Tottenham đại thắng
Tottenham có trận giao hữu với Colchester. Dù không có sự xuất hiện của trụ cột Harry Kane tuy nhiên ngôi sao Son Heung Min vẫn đủ khả năng lĩnh xướng hàng công Spurs với 1 bàn thắng và 1 kiến tạo.
Cập nhật lúc: 06:55:09 25/05/2022