U23 Vietnam first trainning in Thailand prior to the AFC U23 Championship 2020 finals
Thứ sáu, 03/01/2020 17:30 (GMT+7)
U23 Vietnam has the first training yesterday afternoon in Bangkok. Earlier, the players took a rest on the morning.
Park and Vietnam U-23 team train in Lad Krabang 54 of MOF Customs United. The field seats 2000 people with nicely cut grass, suitable for the training.
However, MOF Customs United has quite a lot of open sides. Therefore, the requirement of closed training to ensure the tactics is only relative.
The distance from the training point to the headquarters of U23 Vietnam (the complex near Suvarnabhumi airport) is 20 kilometers. It is known that U23 Vietnam will stay and practice in Bangkok within 6 days.
In the afternoon training session, all 25 Vietnamese players, including 2 players who were not on the AFC registration list, Tran Dinh Trong and Nham Manh Dung, trained normally.
In addition to physical exercises, Mr. Park also focused on dividing the opposing squad, applying tactical pieces to prepare for the closed match against U23 Bahrain this afternoon. This is a review match for Park to check the forces, before deciding on the final personnel and tactics to enter the finals. Notably, the U23 Vietnam camp and host U23 Thailand are quite close together. They both selected the area near the Suvarnabhumi field to set up in preparation for the tournament.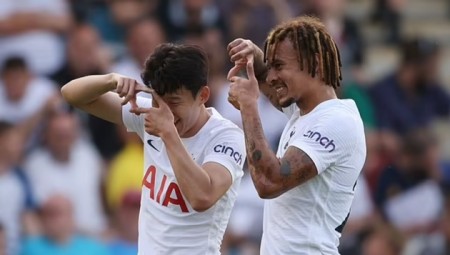 VIDEO: Không cần Harry Kane, Son Heung Min tỏa sáng giúp Tottenham đại thắng
Tottenham có trận giao hữu với Colchester. Dù không có sự xuất hiện của trụ cột Harry Kane tuy nhiên ngôi sao Son Heung Min vẫn đủ khả năng lĩnh xướng hàng công Spurs với 1 bàn thắng và 1 kiến tạo.