Martin Lo to leave for Thai League next season
Thứ ba, 07/01/2020 16:00 (GMT+7)
Director Le Minh Dung of Pho Hien revealed that midfielder Martin Lo is receiving attention from many clubs in Thailand.
Martin Lo has just spent a relatively successful season with Pho Hien club. He and his teammates finished second in the rankings. However, the promotion goal to compete in the V-League 2020 was not successful when Pho Hien FC lost to Thanh Hoa in the play-off match.
Talking about Martin Lo's future, Le Minh Dung, Managing Director of Pho Hien, said: "Many teams are interested in Martin Lo. Not onlyVietnamese but also foreign teams. Some Thai club contacted us but no official documents sent," according to Zing.
Apart from foreign clubs, the team that pays the most attention to Martin Lo is Saigon Club. Regarding this, Mr. Le Minh Dung refused to disclose specific information: "It is true that Saigon Club has an interest in Martin, but I cannot disclose in detail. Not only Martin Lo, some other players of Pho Hien also receives the attention of the teams. This is not the right time to talk about this. "
Martin Lo was summoned to the preliminary list of the U22 team for the 30th SEA Games. However, the midfielder was removed from the final list.
In this transfer, Pho Hien club quickly added many quality names, notably goalkeeper Nguyen Thanh Tung and striker Luong Van Hung. In addition, they also successfully persuaded striker Lam Thuan to sign an official 2-year contract with the club.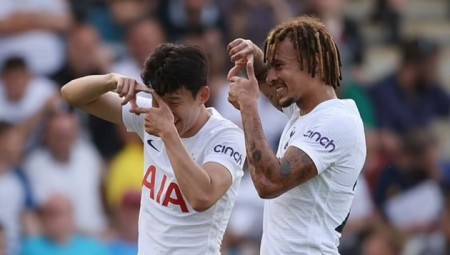 VIDEO: Không cần Harry Kane, Son Heung Min tỏa sáng giúp Tottenham đại thắng
Tottenham có trận giao hữu với Colchester. Dù không có sự xuất hiện của trụ cột Harry Kane tuy nhiên ngôi sao Son Heung Min vẫn đủ khả năng lĩnh xướng hàng công Spurs với 1 bàn thắng và 1 kiến tạo.