Ho Tan Tai suspended, U23 Vietnam is at a disavantage
Thứ ba, 31/12/2019 11:00 (GMT+7)
U23 Vietnam will not have the service of defender Ho Tan Tai in the opening match against U23 UAE.
U23 Vietnam will visit Thailand tomorrow to attend AFC U23 Championship 2020 finals. Park believes that 25 official players will repeat their achievement like what the did two years ago.
Being in the comfortable group, U23 Vietnam should not be optimistic since Park will not have the service of Ho Tan Tai.
In the qualifier on My Dinh stadium in March 2019, Ho Tan Tai was drawn 2 yellow cards which causes him a suspension in AFC U23 Championship 2020.
It is a big loss for Vietnam in the last SEA Games since Tan Tai is a parfect replacement for Trong hoang in the right wing position. Tan Tai can even play stably in the left wing.
The UAE is the strongest team in the three opponents in the group stage. So lacking Tan Tai at this time is a disadvantage for U23 Vietnam. Vietnam will play the opening match on January 10, then on January 13 and 16, they meet Jordan and North Korea respectively.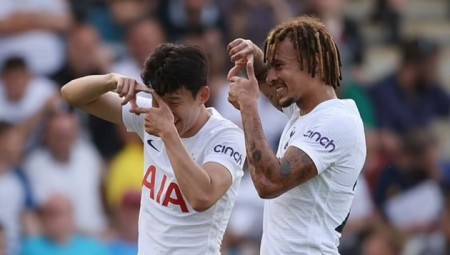 VIDEO: Không cần Harry Kane, Son Heung Min tỏa sáng giúp Tottenham đại thắng
Tottenham có trận giao hữu với Colchester. Dù không có sự xuất hiện của trụ cột Harry Kane tuy nhiên ngôi sao Son Heung Min vẫn đủ khả năng lĩnh xướng hàng công Spurs với 1 bàn thắng và 1 kiến tạo.
Cập nhật lúc: 09:30:36 24/05/2022