Dinh Trong surprisingly tapped in the U23 Vietnam's friendly with Bahrain
Thứ bảy, 04/01/2020 11:00 (GMT+7)
In the friendly match with u23 Bahrain, Park surprises fans by using Dinh Trong although this player is not registered in the roster at AFC U23 Championship 2020 finals.
U23 Vietnam handed its final roster to AFC, notably Dinh Trong and Nham Manh Dung are excluded from the list.
However, the South Korean stratergist suddenly gave Dinh Trong a start in the friendly on Friday.
Dinh Trong appearance is a good signal for U23 Vietnam as the 23-year-old's play style is highly rated.
Many believe that the exclusion of Sinh Trong is just a tactic of Park. In fact, Park can make some changes 6 hours before the first match start.
Vietnam lost Bahrain 1-2. The only goal  was scored by Huynh Tan Sinh. This is an important review of the two teams, so all information about the match was not allowed to disclose.
U23 Vietnam is set to train in Bangkok for another two days then moves to Buriram on January 6.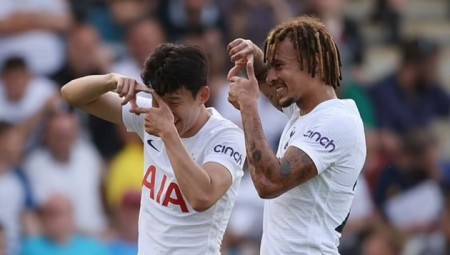 VIDEO: Không cần Harry Kane, Son Heung Min tỏa sáng giúp Tottenham đại thắng
Tottenham có trận giao hữu với Colchester. Dù không có sự xuất hiện của trụ cột Harry Kane tuy nhiên ngôi sao Son Heung Min vẫn đủ khả năng lĩnh xướng hàng công Spurs với 1 bàn thắng và 1 kiến tạo.
Cập nhật lúc: 08:45:15 25/05/2022