Park Hang-seo and his players have meaningful actions during COVID-19 epidemic
Author: Bill Lintons
11:00 | 07/04/2020
Coach Park Hang-seo and the players of Vietnam participated in the "Thank you" campaign to express their gratitude to the doctors who were fighting against the Covid-19 days and nights.
The COVID-19 pandemic is very complicated in Vietnam. This makes the team of doctors and doctors work very hard to fight this evil disease.
Understanding the contributions of doctors in the present time, a campaign called "Thank you" has been launched to accompany and acknowledge the contributions of the medical staff in recent days. .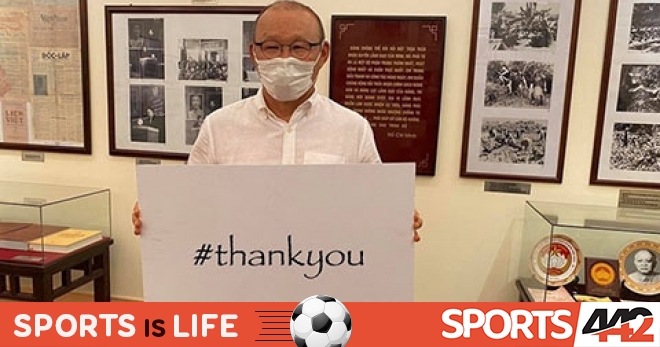 The campaign was immediately welcomed by society, and Vietnamese players did not stand out from this meaningful activity. Que Ngoc Hai, Bui Tien Dung, Tran Dinh Trong and Nguyen Tien Linh respectively ... responded and participated in this campaign. Even Coach Park Hang Seo uploaded a picture with the words "#Thank You" on his hand.
Striker Tien Linh shared: "This is a very meaningful program, showing the solidarity and cooperation of everyone to prevent and repel the disease. Hopefully from this campaign, there will be more charitable programs for the community and for society ".
This is not the first time a Korean strategist has taken actions to join hands with society and fight against the COVID-19 pandemic. Previously, he had donated USD 5,000 as well as called for his Korean compatriots to contribute USD 100,000 to help Vietnam prevent the spread of the pandemic.