U23 Thailand should not have tried to attack the solid "rock" Dinh Trong
Author: Vân Anh
07:42 | 01/04/2019
Gama's side made a meaningless mistake which they had not had in the 2 previous matches. They shouldn't have tried to attack into Dinh Trong's position, who is such a solid "rock".
Thank you, Mr. Park!
U23 Vietnam has just gained a historic triumph over U23 Thailand. About the victory, it is unfair not to mention Park's defenders, who devoted so much to the victory under command of Tran Dinh Trong.
Before AFC U23 Championship 2020 Qualifiers, Dinh Trong only played a few minutes in the match U23 Vietnam facing U23 Taiwan, which made fans worried. Although Coach Park filled Dinh Trong's name in the list, his physical strength seemed to be not good enough.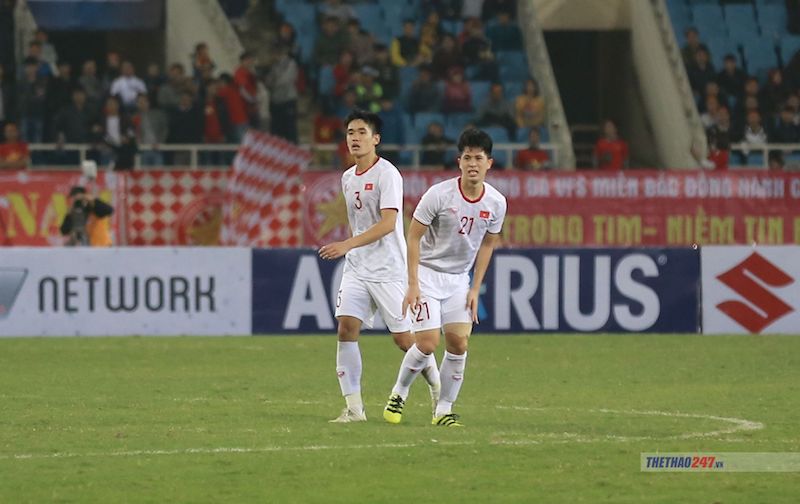 All U23 Vietnam footballers devoted abundant efforts to the team's great victory. Picture: Ngoc Bao
Que Ngoc Hai, Do Duy Manh, Bui Tien Dung could not serve to U23 Vietnam, which meant Dinh Trong's seemingly absence made a huge challenge and a high risk of conceding for U23 Vietnam.
How lucky! In the very last match between U23 Vietnam and U23 Thailand, Dinh Trong, the "tucked-in shirt man", not only played the whole game but also devoted abundant efforts to the team's great victory. So why did Coach Park keep Dinh Trong until the last minutes?
Whether he concerned about 21-year-old defender or he just wait for the end to release his "Ace" in the right time, listing Dinh Trong in the member list of U23 Vietnam for AFC U23 Championship 2020 tournament was Coach Park's a lucid decision.
Goalkeeper Bui Tien Dung shared: "Dinh Trong is the leader of my team. It's nothing to worry about if there's Dinh Trong in front of my goal."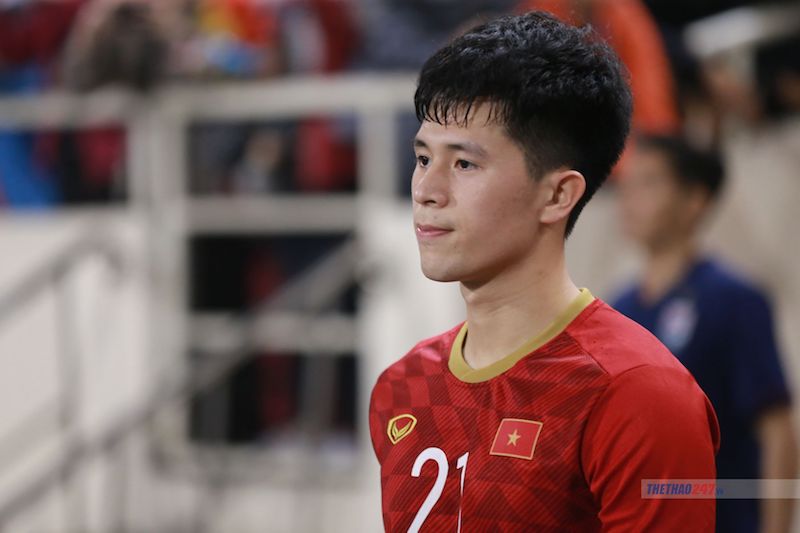 The "tucked-in shirt man" - Tran Dinh Trong Picture: Ngoc Bao
The influence of this Hanoi player cannot be assessed by seeing what he did like clearance or a backheel because the defender's contributions are his present which is likely a mind medicine helping the whole team feel secure to play all their strengths.
Seeing Dinh Trong in the pitch, U23 Vietnam can relieve the stresses and pressures of an important game. They all know that Dinh Trong and the other defenders are always there and can deal with the challenge if there's any mistakes or risks.
The youth defender is really good at aspirating, promoting his mates in fighting together for the country's flag and the fans.
In short, the presence of the 21-year-old defender before the region rivals not only plays an important role in terms of expertise but also contributes to improving the mental factor.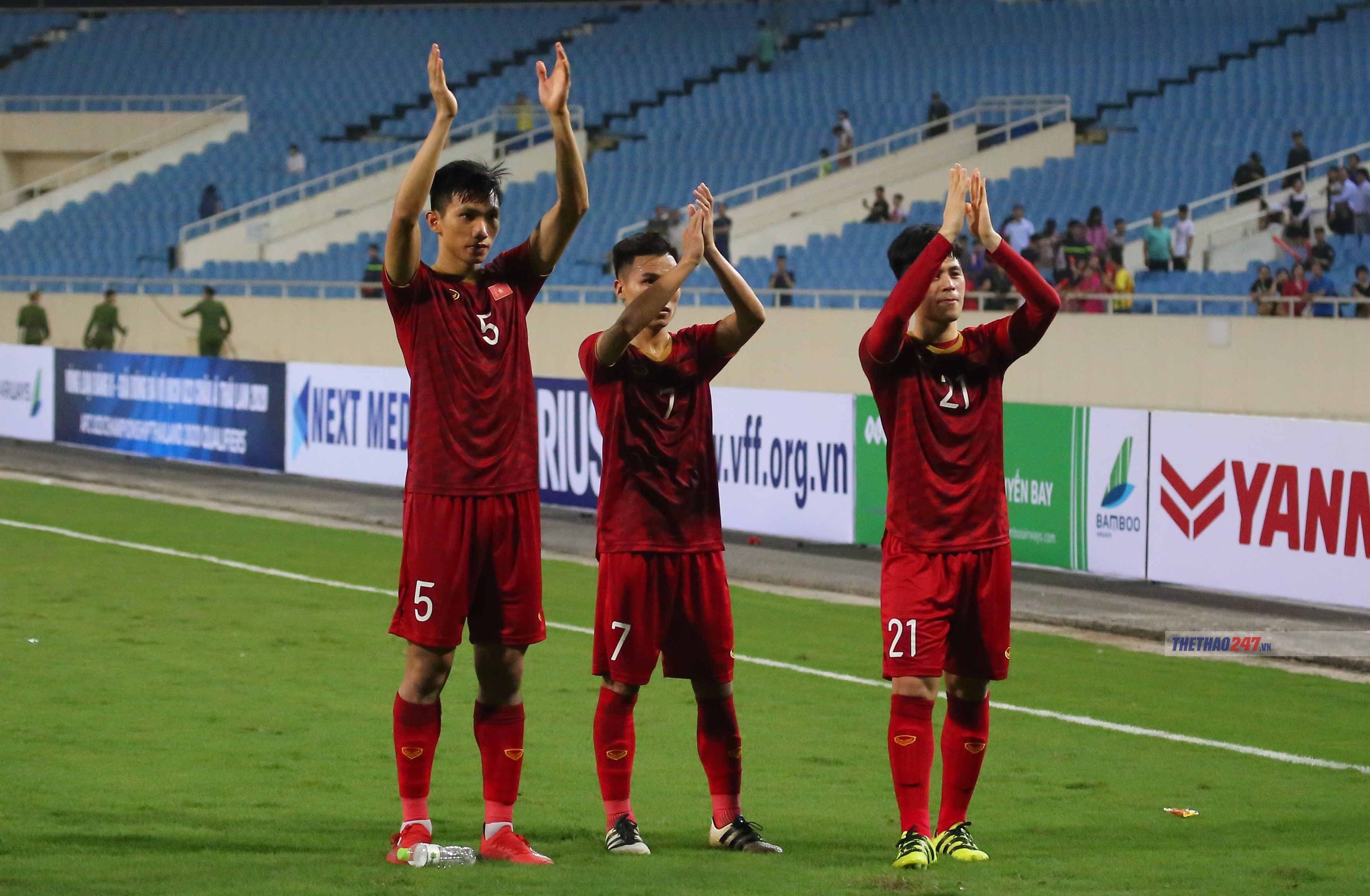 Is it surprising when Park Hang-seo's side could keep a clean sheet against an attacking team like Gama's army? Obviously, it's not!
As long as you are a huge fan of Dinh Trong, you have noticed it right before the ball kicked-off. It is the calmness, the play style, the mature than the age of the 21-year-old midfielder who has contributed to the national football to overcome convincingly the rivalry.
In the last encounter, "The War Elephants" seemed to be powerless to find a space to kick the ball which meant there was no chance for them to score Vietnam's goal. It can be said that Trong, a "tucked-in shirt man" is always a magnet to attract the ball from the opponent because nine times out of ten they want to attack, somewhere else, in the penalty area, Dinh Trong stands there to tackle the ball.
Gama's side made a meaningless mistake which they had not had in the 2 previous matches. They shouldn't have tried to attack into Dinh Trong's position, who is such a solid "rock".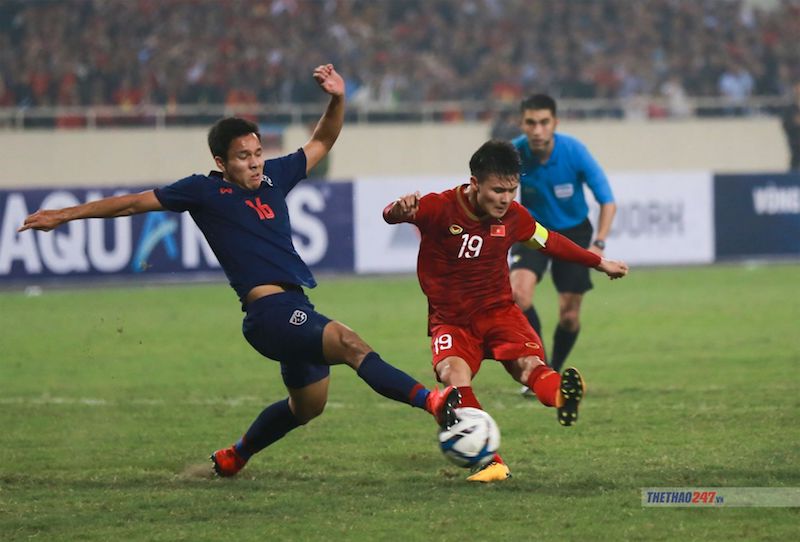 U23 Vietnam vs U23 Thailand. Picture: Bao Ngoc
There never have weaknesses in scoring from Thai people. To have this victory which humiliates Thailand U23 that much, the merits of the defensive line players are worth as same as the other players. 3 people or sometimes 5 players in the defensive line are the launching pad for Quang Hai, Duc Chinh, and Hoang Duc to sublimate.
Dinh Trong, certainly, is the heart of the away side's back four to support and speed up for the offensive line to get the job done in the last contest.
Vietnam team lead by Park Hang-seo always focuses firstly on building a strong defense and scoring goals afterward. This tactic by Coach Park is easier to carry out and totally work out when he has Dinh Trong.
We call Coach Park "witch" because of such extraordinary things that he's done for Vietnamese football all the time.
On the other hand, he - our "captain" must also give thanks to Dinh Trong for becoming a useful pawn helping Vietnam and Coach Park quickly achieved numerous impressive achievements.
It is required for Vietnamese to show the admiration to Coach Park Hang-seo and so does he to our outstanding defenders. Tran Dinh Trong, a regular member of Hanoi FC just passing his twenties must surely be the top footballer in that list.