Ha Noi and Binh Duong raise Vietnam up on Asia standings
Author: Vân Anh
17:07 | 17/05/2019
Thể Thao 247 - Ha Noi FC and Becamex Binh Duong's victories in AFC Cup helped Vietnam climb up higher on Asia standings.
In the last spell of 2019 AFC Cup Group stage, two Vietnam's representatives Ha Noi FC and Becamex Binh Duong both snatched significant triumphs over Tampines Rovers and Ceres Negros respectively.
This leads two Vietnamese teams to the AFC Cup Semifinals of ASEAN area and raises Vietnam's spot on the Asia table from 21st place to 19th place.
Specifically in Southeast Asia scale, Vietnam ranks 5th, was left behind Thailand (8th ranking), Philippines (12th ranking), Malaysia (16th ranking) and Singapore (17th ranking).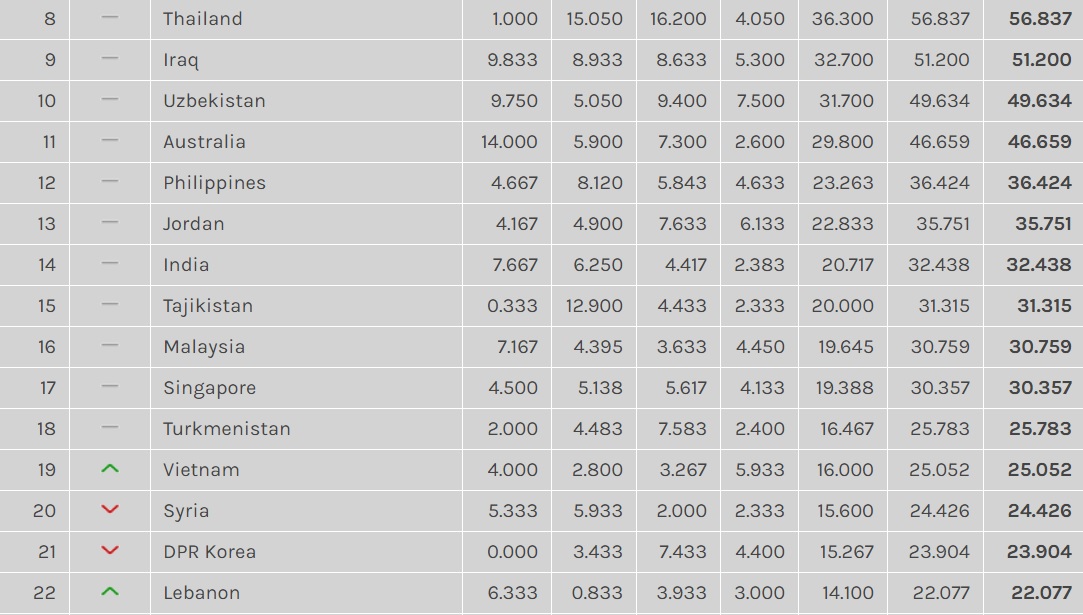 Vietnam climbs up higher on Asia standings
In the semifinal, Ha Noi faces Ceres Negros while Binh Duong encounters PSM Makassar (Indonesia).
Regarding real strength and quality, both teams have high possibility to make through to the zonal finals where there would have entirely Vietnamese teams playing in continental arena.
The first leg of AFC Cup semi-final matches of Southeast Asia area is slated for June 18 and 19 then a week later, the second leg basis on June 25 and 26 will kick-off.