U22 Vietnam wins over Viettel ahead of SEA Games 30
Chủ nhật, 28/07/2019 12:00 (GMT+7)
U22 Vietnam under coach Park pulls off a convincing victory over Viettel FC, with 2 goals from the second-tier Pho Hien FC players.
U22 Vietnam had a training match with Viettel in the second short rally in July. The match was for Vietnam head coach to rate and examine the U22 lineup and for players to impress Park.
There were 3 halves, 30 minutes each. Notably, Park used different strategists for each half, while Viettel gave out mostly young players and substitutes. Bui Tien Dung, Trong Hoang or Que Ngoc Hai were reported no appearance.
U22 Vietnam dominated the game right in the first place. They organized a good play style with the core center midfielder duo Martin Lo and Trieu Viet Hung who controlled completely the midfield to deploy the ball. Many chances were made yet no goal scored in the first half.
U22 Vietnam won impressively over Viettel (Photo: Minh Chien)
Despite the deadlock in the second half, the third half saw Vietnam scoring the opening goal, with midfielder Trong Long had a long shoot from outside of the box, hitting the back of the net of Viettel.
Park continued to change strategy and personel in the last minutes of the second and the third half. Overall, U22 Vietnam dominated the game slightly better than Viettel, with Huynh Tien Dat finished smartly at the 80th minute to seal the 2-0 win for U22 Vietnam.
After this match, U22 Vietnam players will come back to their clubs to fight in the domestic leagues. From now on, U22 Vietnam will deploy short rallies so coach Park could pick some bright names for U22 Vietnam to conquer SEA games 30.
Starting XI:
U22 Vietnam: Van Bieu, Tan Sinh, Viet Trieu, Huu Lam, Bao Toan, Martin Lo, Viet Hung, Vu Tin, Viet Cuong, Trong Hung, Xuan Quyet.
Viettel FC: Xuan Son, Dinh Son, Tien Dung, Cong Son, Duy Thuong, Van Tram, Tien Anh, Nham Manh Dung, Quang Khai, Hoang Minh, Viet Phong.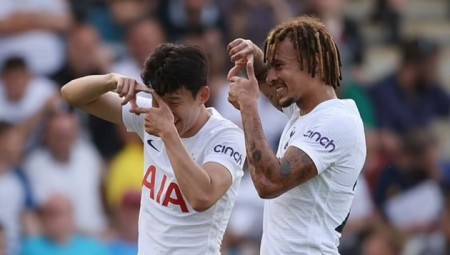 VIDEO: Không cần Harry Kane, Son Heung Min tỏa sáng giúp Tottenham đại thắng
Tottenham có trận giao hữu với Colchester. Dù không có sự xuất hiện của trụ cột Harry Kane tuy nhiên ngôi sao Son Heung Min vẫn đủ khả năng lĩnh xướng hàng công Spurs với 1 bàn thắng và 1 kiến tạo.