Vietnam has a 11-year-old prodigy in HAGL JMG  academy
Thứ tư, 25/03/2020 19:36 (GMT+7)
Le Vu Thai is a young player in course 5 of HAGL, who is considered to be the little Cong Phuong in the futue.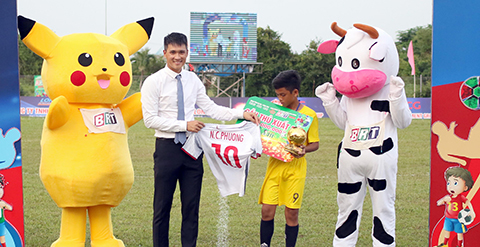 HAGL JMG course 4 is the famous generation in Vietnam now, which trains excellent young players like Tran Gia Huy, Xuan Truong 2.0, Hoang Vinh Nguyen, Vu Minh Hieu, Nguyen Thai Quoc Cuong. However, there is another name training in HAGL: 11-year-old prodigy Le Vu Thai.
Le Vu Thai, 11, the youngest player to qualify for course 5 of HAGL JMG. This young talent is highly evaluted with his personal skills and good handling skill in narrow space.
The Vung Tau-born player is considered the descendant of Cong Phuong. Besides technique, Le Vu Thai also has scroing skill, finishinng in all position, from close range to long distance shots.
"I love watching Cong Phuong playing football. When I applied to HAGL JMG, I was lucky to meet him in Pleiku. I will try my best to succeed like him," the young player shared.
His notabe achievement is the championship and the title Top scorer in Ba Ria Vung Tau Youth Football Tournament 2019. The 11-year-old scored in all matches he played, with 21 goals in 5 matches.
Le Vu Thai had an impressive scoring perfromance 4.2. Even after scoring in the semis, the young HAGL player was benched by his coach to limit the goals.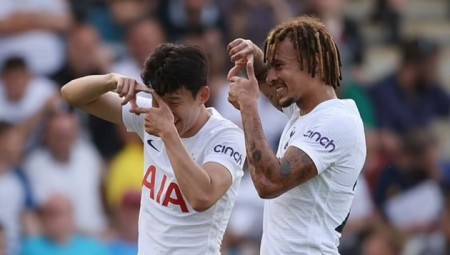 VIDEO: Không cần Harry Kane, Son Heung Min tỏa sáng giúp Tottenham đại thắng
Tottenham có trận giao hữu với Colchester. Dù không có sự xuất hiện của trụ cột Harry Kane tuy nhiên ngôi sao Son Heung Min vẫn đủ khả năng lĩnh xướng hàng công Spurs với 1 bàn thắng và 1 kiến tạo.