U23 North Korea to leave the AFC U23 Championship 2020 finals due to political tension?
Thứ sáu, 03/01/2020 16:00 (GMT+7)
With the registration to AFC, U23 North Korea is likely to join AFC U23 Championship 2020.
Recently, North Korea U-23 is rumored to withdraw from the tournament. The reseaon is possible due to political tension with West Asian countries. 5 days before the opening of the tournament, U23 North Korea has not confirmed their participation. However, AFC announced U23 North Korea's roster to attend the finals.
The list has dispelled doubts about their leaving. According to the regulations, 16 teams mút submit their rosters 10 days before the opening of the tournament.
The  U23 list was announced by AFC including 3 goalkeepers, 6 defenders, 11 midfielders and 3 forwards, led by coach Ri Yu-il. Notably, Mr. Ri summoned midfielder Choe Song Hyok playing for SS Arezzo club (in Serie C of Italy).
Surprisingly, 2 students are also summoned to join the Korean U23 squad, Ryang Hyon Ju (Waseda University) and Mu In Ju (National University of Korea).
Korea U23 is in Group D with U23 Vietnam, U23 Jordan and U23 UAE. According to the schedule, the army of coach Ri Yu-il will meet Park Hang Seo's at 8:15PM on January 16.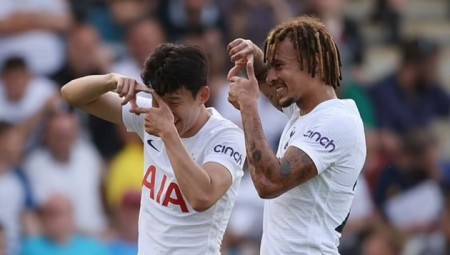 VIDEO: Không cần Harry Kane, Son Heung Min tỏa sáng giúp Tottenham đại thắng
Tottenham có trận giao hữu với Colchester. Dù không có sự xuất hiện của trụ cột Harry Kane tuy nhiên ngôi sao Son Heung Min vẫn đủ khả năng lĩnh xướng hàng công Spurs với 1 bàn thắng và 1 kiến tạo.
Cập nhật lúc: 09:45:15 24/05/2022