Tien Linh responds Chanathip's statement about Vietnamese players
Thứ sáu, 03/01/2020 10:30 (GMT+7)
Thailand midfielder Chanathip Songkrasin stated that Vietnamese players have higher motivation because of lower salary compared to Thai players'. Right after that, Tien Linh shares his thought about this.
"That is nonsense. We always fight for the country. The only thing we care is the determination on the pitch," Tien Linh said.
Earlier, Chanathip said that, " National players have to improve themselves all the time. While Vietnam, I think that because they may not have the same income as our players so they have more motivation, discipline and a strong mind. I think we need to be more professional and ambitious."
January 1 is also the last training session of U23 Vietnam in Ho Chi Minh City before going to Thailand to attend U23 Asian Cup in the afternoon of the same day. Sharing about the whole team, the Becamex Binh Duong player expressed his excitement and readiness to participate in the tournament.
"The preparation before the tournament is very good and on track, the players are in good health condition and ready for the tournament. I myself also try to win a slot," Tien Linh shared.
Injured players like Dinh Trong, Thanh Thinh or Trong Hung are showing positive  signs. The players also started to complete the advanced training clothes that BHL gave them.
U23 Vietnam will depart for Thailand at 4:30 pm 1/1/2020. Park and his players will start Group D with a match against U23 UAE on January 10.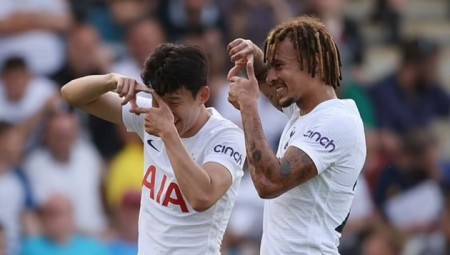 VIDEO: Không cần Harry Kane, Son Heung Min tỏa sáng giúp Tottenham đại thắng
Tottenham có trận giao hữu với Colchester. Dù không có sự xuất hiện của trụ cột Harry Kane tuy nhiên ngôi sao Son Heung Min vẫn đủ khả năng lĩnh xướng hàng công Spurs với 1 bàn thắng và 1 kiến tạo.