Akira Nishino: U23 Thailand will advance to the Olympic Tokyo
Thứ tư, 08/01/2020 12:00 (GMT+7)
Akira Nishino reaffirms that U23 Thailand attending AFC U23 Championship 2020 sets the goal to win the slot in Olympic Tokyo 2020.
In the press interaction on Jan 7, Akira Nishino shared about the preparation progress and Thailand's goal in this tournament.
As the hosts, Akira Nishino admited U23 Thailand under some pressure. "We have some pressure when attending the tournament has the hosts. We have been preparing for the tournament for the past year. The whole team will try their best to gain the best outcome," said Nishino.
U23 Thailand is in group A with Australia, Iraq and Bahrain. Nishino stated Thailand is the weakest in the group so he and coaching staff calculated carefully before the tournament.
"It is clear that the other three teams are stronger than us but we are well-prepared, analyze our opponents and take advantages to be qualified," Nishino stressed.
Being asked about the confrontation with Japan- Nishino's home, the 64-year-old stratergist stated, "We don't aim at facing U23 Japan or any rivals in the tournament. We only care about a place in the Olympic Tokyo 2020," Nishino told media.
"My players have potential but lack of experience. This tournament is a good chance to have the first ones. The match against U23 bahrain will test our power. The whole team will focus on this match before thinking about others," Nishino expresses his trust on the U23 players.
U23 Thailand is going to take on U23 Bahrain on Jan 8 at 8:15PM.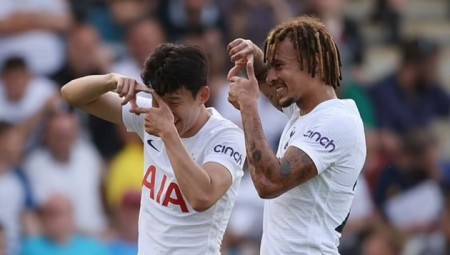 VIDEO: Không cần Harry Kane, Son Heung Min tỏa sáng giúp Tottenham đại thắng
Tottenham có trận giao hữu với Colchester. Dù không có sự xuất hiện của trụ cột Harry Kane tuy nhiên ngôi sao Son Heung Min vẫn đủ khả năng lĩnh xướng hàng công Spurs với 1 bàn thắng và 1 kiến tạo.
Cập nhật lúc: 07:00:43 25/05/2022