What makes Dang Van Lam impressive with Muangthong on Thai League table
Author: Amelia London
Date: 01/08/2019
Muangthong United defeated Chainat FC to rise to the top of the Thai League, speaking to the Thai press, the goalkeeper of the Vietnamese team revealed the reason for his form.
Last night, Muangthong United just won 3-0 against Chainat Hornbill FC in round 21 Thai League. This victory helps Van Lam's team climb to 6th with 30 points, only 6 points behind the top 3. In the next round, Muangthong will face visiting Nakhon Ratchasima on August 3.
Like every match, Van Lam continues to play excellently and keeps Muangthong net save. Van Lam even participated directly in the second goal by throwing the ball for Heberty to move down before crossing for Aung Thu to score.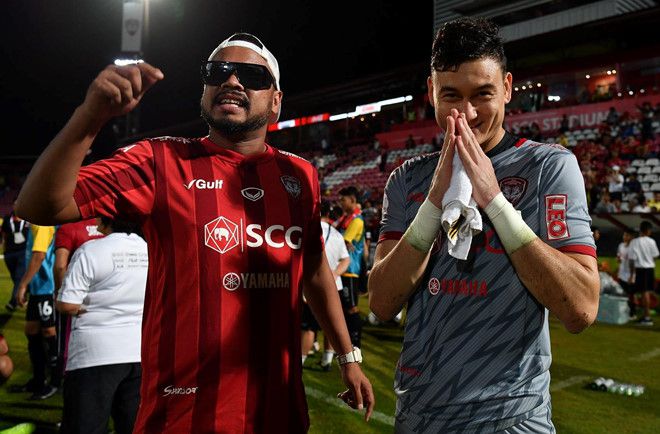 Speaking on Muanthong TV after the match, Van Lam shared: "I am like my teammates. We had the first phase of the season quite difficult.
However, after every match, we tried to play better. I just tried to do my best, so did my teammates."
In the past few weeks, Van Lam was paid attention when he still practiced overtime at Muangthong. He revealed: "Like other professional players, I always try to improve day by day, to limit mistakes and become stronger.
That's why I have overtime exercises. I would also like to thank Muangthong Club for helping me to work with a senior goalie coach like Alexander Lopez. I will try my best ",
Finally, the Vietnamese team goalkeeper also appreciates the Muangthong United fans: "Thank you for always trusting us even in the worst of times.
Now the team is playing better, and we will try our best in every match to make happy fans ".