Thai media worried about Vietnam's change
Author: Preeda Apsara
18:00 | 15/05/2020
Thai media expressed its concern over the information that Vietnam will send the strongest squad to the upcoming AFF Cup 2020.
On 13/5, VFF officially finalized the organization plan of the national professional football competitions in 2020. Accordingly, the tournament will consist of two phases, taking place from 5 June to 25 Oct. Phase 1 aims to group the teams, expected to play from 5 June to 2 Aug.
Along with this change, VFF also announced that it would create the most favorable conditions for Vietnam to prepare to participate in two important competitions at the end of the year, AFF Cup 2020 and World Cup Qualifier 2020 in Asia.
The goal of VFF is that Vietnam will win ticket to the final qualifying round of the 2022 World Cup, as well as successfully defend the championship at the AFF Cup 2020. Therefore, Vietnam NT will send their strongest squad to both tournaments.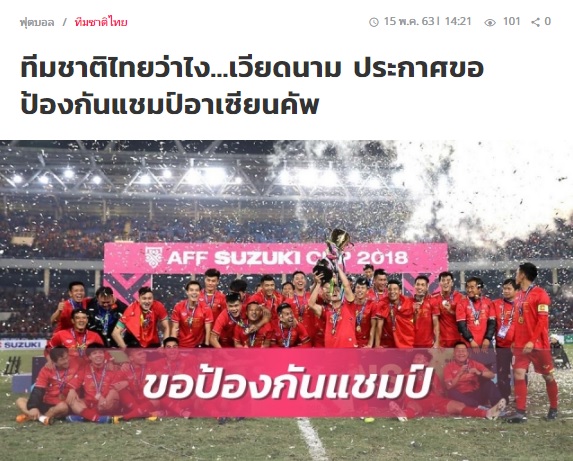 Follwoing this information, Thai media expressed its concern for the opportunity of Akira Nishino's squad at the upcoming AFF Cup 2020. The Siamsport newspaper wrote: "Thailand pay attention: Vietnam announcing to defend their championship"
Army "Gold Star" Vietnam national team- Former champion of the AFF Suzuki Cup last time, who has always been the rival of Thailand, confirmed to be ready to send the strongest and best national team to defend this title again in 2020.
Their goal is nothing more than defending the championship in this tournament.
In addition, V.League 2020 will soon return in the near future. VFF also promised to create favorable conditions for Vietnam to prepare the best for the AFF Cup 2020. This is a great advantage for the army of Park."
While Vietnam has shown its determination to win the AFF Cup 2020, Thailand is indifferent to this tournament. It was rumored that Thailand will send their youth team to the AFF Cup 2020 to focus on qualifying for the 2022 World Cup in Asia. This plan of the Thai Football Federation is criticized by Changsuek's fans.