Akira Nishino's future guaranteed before the AFC U23 Champi
Thứ ba, 31/12/2019 12:00 (GMT+7)
Somyot Poompanmoung , Thailand Football Federation President, recently spoke out to ensure the future for coach Akira Nishino regardless of the results at the upcoming U23 Asian Cup.
AFC U23 Championship 2020 finals will be held from January 8-26, 2020 on 4 big stadiums in Thailand. As the host, the Thai Football Federation aims very high to be in the top 3 of the upcoming tournaments, thereby winning tickets to the Tokyo 2020 Olympics.
The pressure is on Akira Nishino's shoulder, as U23 Thailand fell into the hard-fought group against Australia, Bahrain and Iraq. Besides, he did not have the strongest team when Ekanit Panya could not attend due to injury.
The Thailand Football Federation president - Somyot Poompanmoung spoke up to ensure the future for the Japanese strategist, so that he can focus on the upcoming tournament at home.
"Although the new contract has not been signed, the memorandum and terms have been mutually agreed. It is expected that Akira Nishino will continue to stick with Thai football for another 2 years compared to the old contract. The signing will take place right before the AFC U23 Championship 2020 finals begin.
Results in the upcoming tournament will not affect the new contract of coach Akira Nishino, because the Thai Football Federation is aiming for a long-term plan. Thailand's goal with the Japanese strategist will be to attend the 2026 World Cup. That's why right now, coach Akira Nishino is actively working with the U18 or U23 generation of Thai football to realize this goal. "
Yesterday, Akira Nishino officially announced 23 players to attend the tournament, notably there is the appearance of   Fulham club player- Benjamin Davis. In addition, Thailand U23 is mainly the players in 30th SEA Games such as Supachai Jaided, Supachok, Suphanat or Anon.
According to the schedule, the opening match of the Thai hosts at AFC U23 Championship 2020 finals will be a match against Bahrain at 8:15pm on January 8, 2020.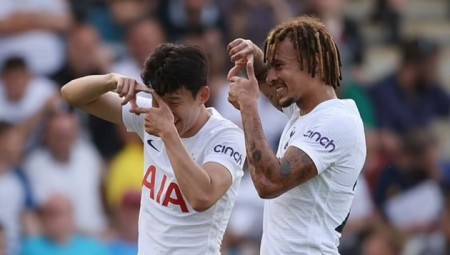 VIDEO: Không cần Harry Kane, Son Heung Min tỏa sáng giúp Tottenham đại thắng
Tottenham có trận giao hữu với Colchester. Dù không có sự xuất hiện của trụ cột Harry Kane tuy nhiên ngôi sao Son Heung Min vẫn đủ khả năng lĩnh xướng hàng công Spurs với 1 bàn thắng và 1 kiến tạo.