Coach Tan Cheng Hoe: 'Malaysia will win the AFF Cup 2020'
Author: Bill Lintons
14:00 | 05/05/2020
Coach Tan Cheng Hoe expressed his belief that Malaysia will return to the success by winning the championship in the AFF Cup 2020.
Malaysia was crowned champion of the AFF Cup 2010. When the AFF Cup 2020 takes place, it will mark the 10th anniversary of "Tigers" becoming the champion of Southeast Asia. Besides the 10-year milestone, coach Tan Cheng Hoe also believes in the "omen" named Vietnam.
"Malaysia is having a strong force. Besides, we are also facing the championship cycle. It is a 10-year cycle, and also related to the fact that Vietnam won the AFF Cup two years later, Malaysia plays a historic role in the Southeast Asia Championship," coach Tan Cheng Hoe shared with the media.
Currently, coach Tan Cheng Hoe owns the equal force. In addition to familiar faces like Safawi Rasid, Safari, Zaquan ..., Malaysia will also have a significant increase from naturalized players. Currently, coach Tan Cheng Hoe has 4 naturalized faces including striker Mohamadou Sumareh, Matthew Davies, left-back Corbin-Ong and central midfielder Brendan Gan. Recently, Malaysia also confirmed the successful naturalization of midfielder Liridon Krasnniqi, who is playing extremely well in the Johor Darul Ta'zim club.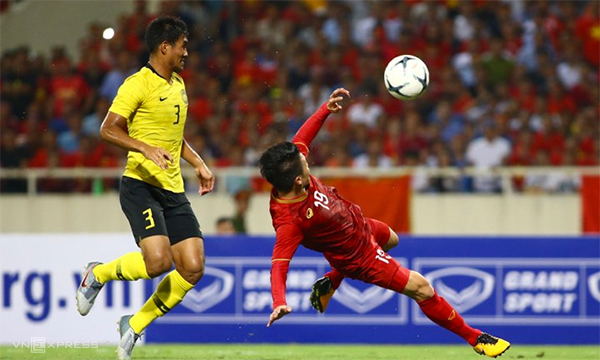 Besides, FAM is rushing to complete procedures with Lee Tuck (Brazilian) and target British player - De Paula. In addition, the Malaysia Football Federation is supporting players who have played in the Champions League and Belgium youth team - Johan Cools to complete the necessary procedures to be able to become Malaysian citizens.
Even so, coach Tan Cheng Hoe still expressed his caution when talking about the AFF Cup championship in 2020. "Besides having strong force, it is equally important to have a well-prepared roadmap and get into the right track from now on," said Malaysia coach.
In addition to the ambition to win the AFF Cup 2020, Malaysia also showed its determination to advance to the final round of the 2022 World Cup qualifier. After 5 matches in Group G, Malaysia has 9 points, ranked second after Vietnam (11 point). Coach Tan Cheng Hoe's team will have a meeting with Vietnam in the next match in Group G later this year.