Thai press: Accept that Vietnam have surpassed us!
Author: Admin
17:50 | 30/03/2019
After the shocking defeat of U23 Thailand team in My Dinh Stadium, their media frankly admitted that they were surpassed by Vietnam.
U23 Thailand's 0-4 defeat against U23 Vietnam has raised many comments that 'Changseuk' did not work very hard. However, Thai media has a completely different view of this failure. Specifically, Thairath press stated that Thai football should accept the truth of being beaten by Vietnam.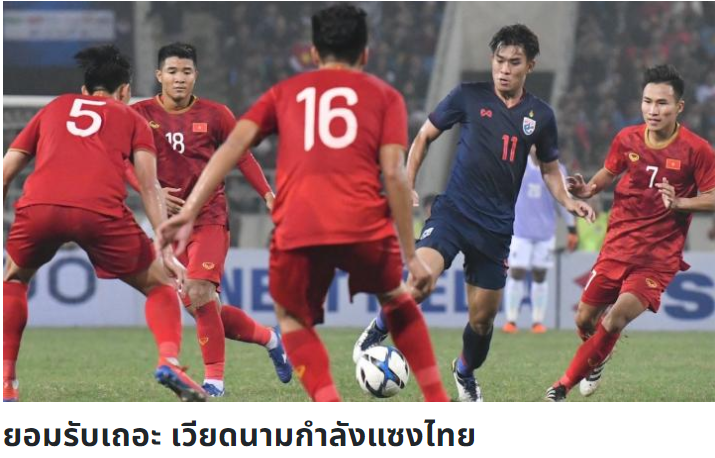 It wrote: "In AFC U23 Championship 2020 Qualifiers, U23 Thailand U23 accepted 0-4 defeat against U23 Vietnam. A loss at a young level, yet a very embarrassing thing, because the opponent is Vietnam. If you watched the game you could see the outstanding players on the pitch were definitely not Thai.
It was Nguyen Quang Hai, U23 Vietnam's number 1 star. He once again demonstrated his potential talent not only in Southeast Asia but also in all Asia.
This failure was a sign of many things. First, Thai football is lacking in development. While Vietnam has made great leaps and bounds. In addition, we are also inferior to Vietnam on the FIFA table. Thailand has not achieved the same achievements as Vietnam did at AFF Suzuki Cup or Asian Cup.
Thai players have lost to Vietnam even in their will, determination, aspiration and professionalism. Suphachaihad to pay off for the card. That will be an important lesson for him to grow up. Did Thai failure help Thai football change? If there is no change, it is difficult for us to overcome Vietnam. "
During the past 1 year, Vietnamese football has gained various impressive achievements in the region and continental arena, including AFC U23 championship'srunner-up in 2018, Top 4 Asiad 2018,  AFF championship 2018 Cup, top 8 Asian Cup 2019 and recently, a ticket to AFC U23 Championship 2020. The results above supported Vietnam to get outstanding progress on FIFA table at 99th.
At the same time, Thai football did not achieve any significant achievements. 'Changseuk' was eliminated in qualifying round at AFC U23 Championship 2018 and Asiad 2018, finished at AFF Cup semi-finals in 2018, finish at round 1/16 of Asian Cup 2019. On FIFA table, Thailand's position is lower than Vietnam's when ranked 115.