Park said goodbye to 'little Van Toan' early in U22 Vietnam
Author: Amelia
16:00 | 26/08/2020
Le Minh Binh will soon say goodbye to Park Hang-seo and U22 Vietnam due to injury.
The mature striker from HAGL JMG Le Minh Binh soon had to break up with coach Park Hang-seo and U22 Vietnam due to injury. Specifically, on the morning of August 25, the striker had a crushing slug bone, soft edema around the ankle.
It is expected that after about 2 weeks of treatment he can return to the ball
In the U22 Vietnam opposition match on August 24, striker Le Minh Binh was overturned after a volleyball dispute with Au Duong Quan in the 50th minute. Young striker was wearing Ba Ria Vung Tau on loan ground incorrectly and have to leave the yard in pain.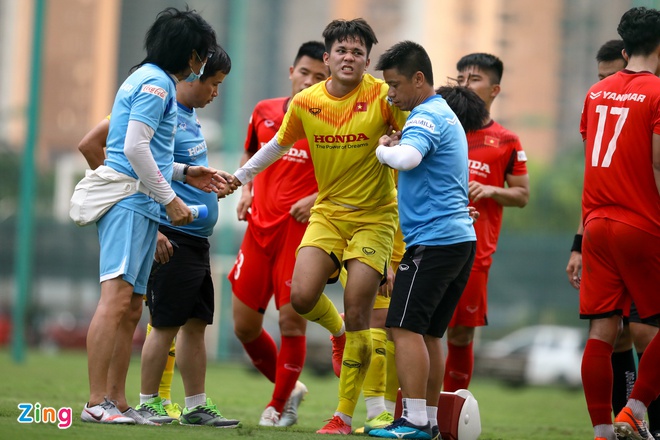 Le Minh Binh is considered the 'Second Van Toan' of Hoang Anh Gia Lai Club. This young striker is highly appreciated for his very good speed and technique. In addition, Minh Binh has a smart playstyle, knowing how to position himself in situations of invading the opponent's penalty area.
The striker is one of the best young talents of the 3rd class JMG. Currently, the HAGL striker has very impressive performance in the First Division with 5 goals after 9 rounds.
In this gathering, the U22 Vietnamese players are determined to impress Park Hang-seo. Therefore, many players overheat and overkill the ball many times.
Mr. Park and his team repeatedly had to stop the game to remind the students to avoid malicious mistakes. "Not to be careless like that, not to make such a dangerous mistake!" - Park shouted during the U22 Vietnam fight.
According to the plan, Park Hang-seo will continue to hold 2 fighting matches for U22 Vietnam on August 27. The whole team will practice lightly for the last session on the morning of August 28 and then the players will disband and return to the club.​