Coach Park had a headache with bright young talents V-League 2019
Author: Bill Lintons
12:00 | 29/06/2020
Young midfielder Nguyen Trong Hung relapsed from the injury and almost certainly could not play in the 7th round of the V-League.
Bad luck still follow young midfielder Nguyen Trong Hung of Thanh Hoa FC. He relapsed his knee injury and was almost unable to attend the match in round 7 with Than Quang Ninh.
In this season, Trong Hung has not officially played any matches in V-League. In the 3 matches against Quang Nam, SLNA and Nam Dinh, Trong Hung was used by coach Lopez and Thanh Cong in the second half to find the best playing feeling.
However, until the match with Viettel in round 6, Trong Hung relapsed into a knee injury so he was not allowed to register to compete. Most likely to be safe for this player, Thanh Hoa will let him sit in the stands cheering his teammates.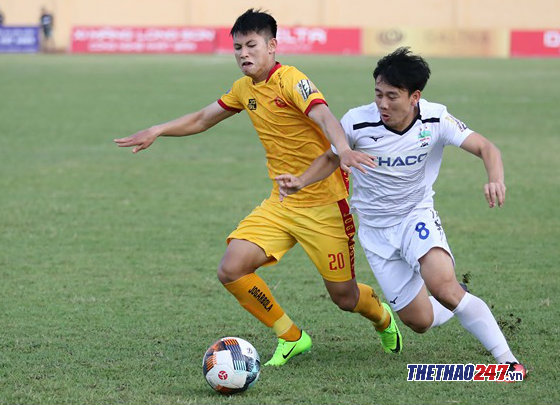 In the 2019 season, Trong Hung stirred V-League with his great performance. Experts greatly appreciate this player's technique and speed.
Many people believe that Trong Hung will be a good candidate to replace Van Duc when he is on rehabilitation. Mr. Park also summoned the star in the World Cup 2022  qualifying matches. However, at the SEA Games 30, the tournament that people need Trong Hung to shine the most, he has a thigh problem. It lasted to the AFC U23 Championship 2020 and the first part of the 2020 V-League.
These injuries greatly affect Trong Hung's momentum. It will be very difficult for Trong Hung to be called up when seniors like Van Toan and Cong Phuong are in good form and Van Duc is back.
Without Trong Hung , Thanh Hoa is flying high with new coach Nguyen Thanh Cong. He has helped the team win 7 points in 3 matches since coming to power. Welcoming Than Quang Ninh in round 7 will be a difficult challenge even if they are playing at home.