BREAKING: The V-League has made a historic change
Author: Bill Lintons
15:11 | 13/05/2020
May 13, the VFF Executive Board has officially finalized the plan to organize the rest of the 2020 domestic Leagues.
This morning, Vietnam Professional Equity Joint Stock Company (VPF) submitted to VFF two options for the rest of the 2020 season. 14/15 participants attending the conference agreed with the second plan.
Specifically, the clubs will play the remaining 11 matches of the first leg of the V.League 2020 (two rounds have taken place since the beginning of March). After 13 rounds, 14 teams will be divided into 2 groups to fight for the championship and win relegation tickets through the scores won.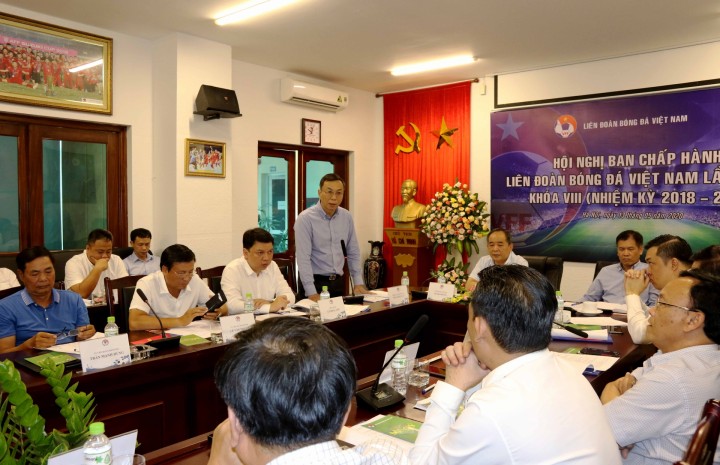 The top 8 teams will play a round-robin format choose the champions. This group will kick 7 rounds. The last 6 teams in the group will compete in a circle to find the relegated team. These teams will play a total of 5 rounds and only 1 team is relegated. Scores in the first 13 rounds after sub-grouping will not be accumulated into phase 2.
The ways of ranking teams based on scores, total goals / losses, head-to-head difference remain the same. If the above indicators are equal, the organizers will consider the rankings according to the fair-play index (yellow card 1 point, red card 3 points), the team with less points will be ranked higher.
It is known that the 2020 V.League will only have 1 relegated slot instead of 1.5 places like the previous seasons. The rest of the V.League is scheduled to started from June 5 to Oct 25.
The format for organizing the First Division is similar, after the end of the first leg the teams will be divided into 2 groups, each of 6 teams. In phase 2, each team will play 5 more rounds.
Thus, the first-season 2020 will end after 17 rounds, shortening 5 rounds compared to the old format. The 2020 V.League will be shortened to 4 rounds for the group of 8 teams above, shorten to 8 rounds for the 6 teams ranked in the first phase. This will create conditions for Vietnam to have more time to focus, the players also reduce the worry of overload because the schedule is too thick.