Dang Van Lam's good saves, Muangthong win a point
Chủ nhật, 14/07/2019 16:59 (GMT+7)
Dang Van lam excellent performance helped Muangthong draw in a disadvantageous game.
Muangthong has an away game against Chiangmai in Thai League round 18. Facing an underdog team in the table made Muangthong side confident to bring back a win.
However, they conceded a goal in the 20th minute from Chotipat Poomkeaw shoot from the outside of the box, Chiangmai led 1-0. Moreover, Muangthong Adisorn Promrak was booked a red card after a foul to Chiangmai side Gionata, causing Muangthong to lose one player on the field.
Despite its disadvantages, Muangthong still played with high spirit then scored an equalizer at the 87th minute. By gaining one point, Muangthong reaches top 10, with 21 points while Chiangmai lie in the group 3 at the bottom with 17 points.
In this match, Dang Van Lam was the highlight of Muangthong with excellent saves. In the situation of a lack of people, it is extremely difficult to dispute the ball from the opponent.
Dang Van Lam's performance was highly appreciated by Thailand's Siamsports, he scored 6 points - the 3rd highest in Muangthong United's lineup. Two players with higher scores are Ernesto and Sanukran Thinjom (both received 6.5 points).
In the next match in the 19 Thai League round, Dang Van Lam and his teammates will face a tough challenge against Port FC. The match takes place on July 17.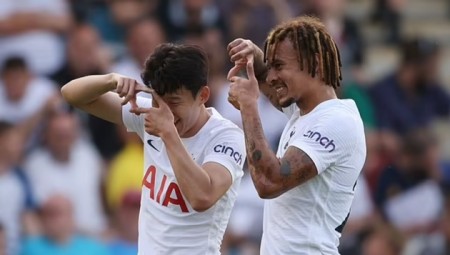 VIDEO: Không cần Harry Kane, Son Heung Min tỏa sáng giúp Tottenham đại thắng
Tottenham có trận giao hữu với Colchester. Dù không có sự xuất hiện của trụ cột Harry Kane tuy nhiên ngôi sao Son Heung Min vẫn đủ khả năng lĩnh xướng hàng công Spurs với 1 bàn thắng và 1 kiến tạo.