Van Hau engrossed in training in Spain with Heerenveen
Thứ hai, 06/01/2020 16:00 (GMT+7)
Doan Van Hau and his team-mates at SC Heerenveen are training in Spain during the Winter break of the Dutch league.
The Dutch league is in the winter break time, this is an opportunity for the teams attending the tournament to have short training days to keep their fitness and performance.
Doan Van Hau's club is currently training in the city of Girona in Spain to prepare for the second half of the season, which Heerenveen will have a friendly match with Llagostera - the club playing in the Spanish Third Division during this training trip. This is a good opportunity for Van Hau to impress coach Johnny Jansen.
Sharing after the first training session on January 5, Van Hau said: "Today is the first training session of the team, it is very fun. We will have a week of training here. The team strives to train, improve and implement well the tactics set by the coach. I think the training site is great. We will take the time here to practice well. "
Earlier, coach Johnny Jansen spoke up to ensure the future of Van Hau at Heerenveen after Dutch media said that the Vietnamese defender did not meet his expertise and will soon leave the club:
"I fully believe that Van Hau can afford to play for SC Heerenveen in the long run. Of course, there will be many different points of view, but we need to look at the fact why we need to be patient with Van Hau before using him most effectively. ''
Van Hau was unable to conquer with U23 Vietnam in AFC U23 Championship 2020 in Thailand. This is a pity when Van Hau is in a very high level, especially at the last SEA Games 30.
According to the schedule, the Dutch league will return from January 18 with the 19th round. In this round, SC Heerenveen will visit Feyenoord. This is expected to be a very difficult match for Van Hau and his teammates.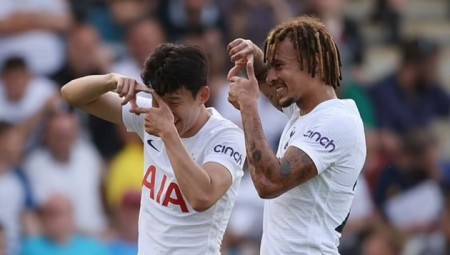 VIDEO: Không cần Harry Kane, Son Heung Min tỏa sáng giúp Tottenham đại thắng
Tottenham có trận giao hữu với Colchester. Dù không có sự xuất hiện của trụ cột Harry Kane tuy nhiên ngôi sao Son Heung Min vẫn đủ khả năng lĩnh xướng hàng công Spurs với 1 bàn thắng và 1 kiến tạo.
Cập nhật lúc: 08:30:37 25/05/2022