U23 UAE plays a friendly with a Thailand club before facing U23 Vietnam in the opening match
Thứ hai, 06/01/2020 17:30 (GMT+7)
Ahead of the match against U23 Vietnam, the U23 UAE team will be arranged to play another friendly match with a club in Thailand.
At this time,  Maciej Skorza and U23 UAE are present in Bangkok to practice for the tournament.
The U23 UAE squad this time is quite quality with many experienced names such as goalkeeper Al Shamsi, midfielder Ali Saleh, defender Khalifa Al Hammadim or Mohammed Omar Al Attas, ..
The team from West Asia is scheduled yp move to Buriram tomorrow 7/1.
U23 UAE will play another friendly match with a Thai club, after this game, the coaching staff will have the assessment and adjustment in playstyle in the match with U23 Vietnam.
"All the teams in the group are strong, each team wants to get the best results to get tickets to the 2020 Tokyo Olympic Games.
All four teams have ambition and motivation to overcome the group stage, which makes us forced to strive to reach the goal to Japan, " midfielder Ali Saleh said.
In the Qualifying Round at the end of March 2019, the U23 UAE team won tickets to the first place in Group D by winning two matches against Nepal and Lebanon, ans drawing Saudi Arabia.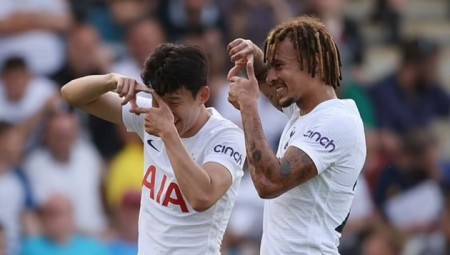 VIDEO: Không cần Harry Kane, Son Heung Min tỏa sáng giúp Tottenham đại thắng
Tottenham có trận giao hữu với Colchester. Dù không có sự xuất hiện của trụ cột Harry Kane tuy nhiên ngôi sao Son Heung Min vẫn đủ khả năng lĩnh xướng hàng công Spurs với 1 bàn thắng và 1 kiến tạo.