Iraq vs Hongkong match to move out of China due to Coronavirus
Thứ bảy, 01/02/2020 09:42 (GMT+7)
Concerning about the Corona virus pandemic, the Iraq Football Federation proposed the AFC to change venue of the match between Hong Kong and Iraq on March 31 to My Dinh Stadium.
Recently, the Vietnam Football Federation and the Iraqi Football Federation have reached an agreement for a friendly in the FIFA Days on March 26. This friendly match helped Vietnam and Iraq to review their forces and tactics before the 2022 World Cup Qualifying Round on March 31.
According to some sources, the Iraqi Football Federation is also asking the AFC to move the match venue out of Chinese territory and held at My Dinh Stadium in Vietnam. The reason given by the IFA is because of the complicated developments of the Corona virus in Wuhan, China.
According to the World Health Organization data, Hong Kong is the second-most populous region with corona virus infection in the world with 15 cases, behind China (9699 cases). This is why Iraqi is very worried when their team is about to play in the 2022 World Cup qualifier in Hong Kong.
The IFA wants to organize the match between Hong Kong and Iraq in My Dinh, causing Park Hang Seo's proposal to play in Binh Duong has not been approved.
Accordingly, VFF is still considering three stadiums: Thong Nhat, My Dinh and Go Dau.
The Korean military leader assessed the weather in Binh Duong in March 2020 which has many similarities with Malaysia. Mr. Park wants Vietnam to get used to the climate, before travelling to Malaysia on March 31.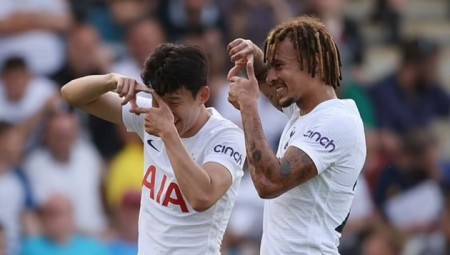 VIDEO: Không cần Harry Kane, Son Heung Min tỏa sáng giúp Tottenham đại thắng
Tottenham có trận giao hữu với Colchester. Dù không có sự xuất hiện của trụ cột Harry Kane tuy nhiên ngôi sao Son Heung Min vẫn đủ khả năng lĩnh xướng hàng công Spurs với 1 bàn thắng và 1 kiến tạo.
Cập nhật lúc: 04:35:08 22/05/2022