Held by Thailand, U18 Vietnam at risk of crashing out of the tournament
U18 Vietnam could not rally pass Thailand to be ranked 3rd on the table.
Meanwhile, that U18 Malaysia defeated U18 Australia made it difficult for Vietnam. A win is a must for Vietnam to get the ticket to the next round.
The pressure from a win and the Thailand's tough style with fouls made Vietnam angry and interrupted the match quite a lot.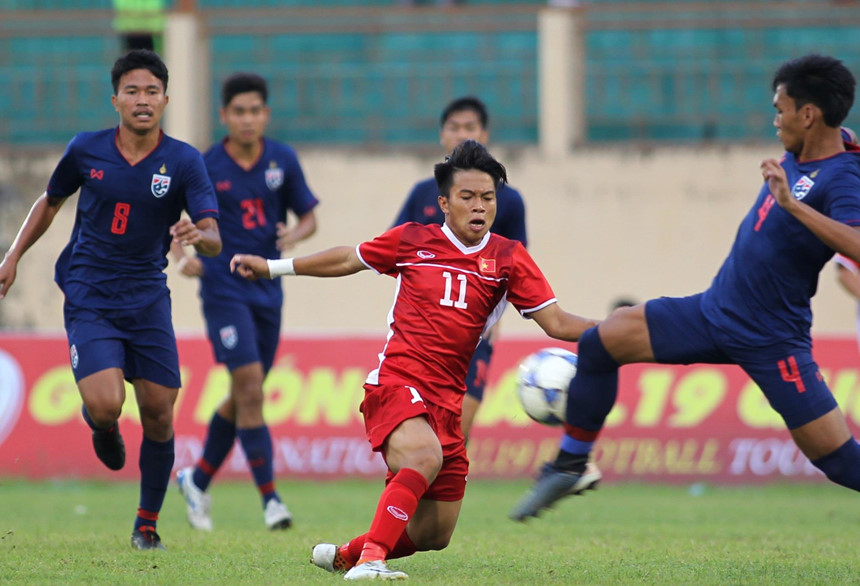 In the first half, both teams played with high speed with the ball rolling round the middle. U18 Thailand entered the second match then played deeper to counterattack while Vietnam fielded attacker Xuan Tao and Manh Quynh to seek for goals.
These  changed turned Vietnam playstyle to higher with many chances; notably,Xuan Tao set up Minh Nhat to score yet it hit the an opposing player and was thrown out.
Thailand also created dangerous situations with a notable shot hitting Vietnam goalkeeper's face.
Vietnam attempted in the last minutes to score yet Thailand's good clearance sealed 0-0 draw.
With this result, Vietnam is ranked 3rd in the group, 2 points less than Australia and Malaysia.
Highlights:
The match ended with the score 0-0. U18 Vietnam still has a lot of work to do in the final match.
The first half ended with a 0-0 draw, the number of chances was small but there were a lot of fouls that made the game interrupted.
45 ': Long shot! ... Xuan Binh tried his luck at a 30-meter shot but the ball flew into the sky.
29 ': Dangerous ... Eli Niê missed the ball, but thankfully the Thai player kicked outside of the net.
15 ': Chance! ... Cong To receive an assist from the team but was disputed by 2 Thai defenders in time.
10 ': It's a foul from Thai players to Dang Quang Tu.
6 ': Foul ... Thai player pushed behind Vo Nguyen Hoang.
1 ': The match starts !!!